Canada relaxed and focused at Commonwealth staging Down Under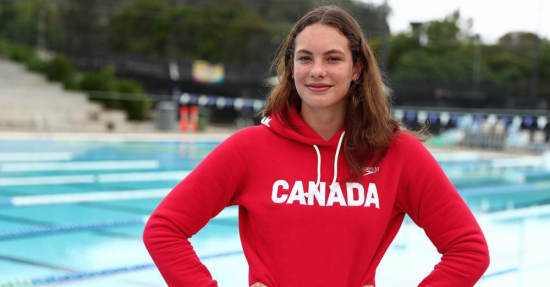 GOLD COAST, Australia – Swimming Canada's staging camp is well underway as the 36-member team gets ready for the Commonwealth Games in Gold Coast, Australia.
Olympic medallists Penny Oleksiak, Taylor Ruck, Hilary Caldwell and Kylie Masse highlight a strong women's team, the latter coming off a world-record performance in the 100-m backstroke at last year's FINA World Championships. The fully integrated team also includes Paralympic medallists Aurelie Rivard, Katarina Roxon and Tess Routliffe. It's the third Commonwealth Games for Roxon. On the men's side, reigning Swimming Canada Male Swimmer of the Year, Yuri Kisil will look to play a big role in Canada's relays, as well as the individual sprint events. Kisil finished 10th in the 100-m freestyle at the Budapest 2017 worlds.
This year's team is looking to top its total from the last Games in 2014, when Canada won 11 medals in Glasgow. That summer also saw Canada compete at the Pan Pacific Championships, which were hosted at the same Gold Coast Aquatic Centre that will be the competition venue for these Games.
While a handful of athletes – including Caldwell and Kisil – remain from 2014, the team certainly has a new look. Of note, the distance events are vacant after the retirements of the dominant Ryan Cochrane on the men's side and fellow perennial contender Brittany MacLean on the women's.
But plenty of new talent is on hand, including 16-year-old senior team rookies Faith Knelson and Jade Hannah of the High Performance Centre – Victoria, both of whom won multiple medals at the Indianapolis 2017 FINA World Junior Championships. They'll be joined by fellow world junior standouts Kayla Sanchez, 16, and Rebecca Smith, 18, of the High Performance Centre – Ontario, who made their senior team debuts in 2017. Fellow senior team sophomores Josiah Binnema and Carson Olafson of the High Performance Centre – Vancouver, both 20, will look to factor into the relay mix. So will rookies Samuel Belanger, 21, of Laval Rouge et Or and 18-year-old Ruslan Gaziev of Markham Aquatic Club, who competed at world juniors last year.
The weather has been warm and humid, with temperatures reaching into the high 20s, interspersed by occasional torrential downpours. The team is training at Somerset College and All Saints Anglican School before moving into the Games village on the weekend.
"We've got an outdoor 50-metre pool training environment at Somerset College, and a covered 25-metre pool at All Saints Anglican School. They're close by to our resort, providing an easy environment for people to do their final preparation before our final transition into the village," said Swimming Canada High Performance Director John Atkinson, the team leader in Gold Coast.
"We're focused on a relaxed, professional environment for our team."
The full team list can be found here: https://www.swimming.ca/en/national-teams/senior-national-teams/commonwealth-games/
Nathan White
+61 0431469380