Broadcasting executive Nancy Lee elected to CGC Board of Directors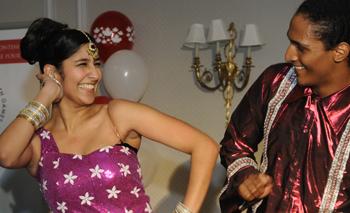 Nancy Lee (Toronto, ON), Chief Operating Officer of Olympic Broadcasting Services Vancouver for the 2010 Winter Olympics, and former head of CBC Sports, is the newest Vice-President of Commonwealth Games Canada's (CGC) Board of Directors. The board elections took place at CGC's Annual General Meeting, held March 4-6 in Toronto.
John Stanton (Edmonton, AB), founder of The Running Room, was re-elected as a Board VP for the next four years as were: Sue Boreski, CEO of the Manitoba Cardiac Institute (Reh-Fit) Inc. (Winnipeg, MB); Linda Cuthbert, President of Breakthrough Performance and former national team diver, technical official and senior sport administrator (Toronto, ON); and Rob Toller, an Ottawa-based consultant with over 30 years in senior public service roles in various departments, including Sport Canada.
Rick Powers (Toronto, ON), National Academic Director at the Joseph L. Rotman School of Management (University of Toronto), was acclaimed as Board Treasurer. Bruce Robertson (Ottawa, ON), Managing Partner of BurntEdge Incorporated, will continue on the Board in his role as Vice-President of the Commonwealth Games Federation (CGF), while Trevino Betty (Mississauga, ON), Manager of Store Support for Walmart Canada and former national team sprinter and long jumper, retains his Board seat as a member of the CGF Sport Committee.
"Commonwealth Games Canada is extremely fortunate and excited to have a person of Nancy's stature, experience and credibility joining the Board of Directors," said Dr. Andrew Pipe, President of CGC. "She will be an enormous asset to the organization as we strengthen our corporate sponsorship base and give active consideration to bidding for the 2022 Commonwealth Games. Nancy joins a very effective leadership team that supports CGC's efforts to create a unique competitive environment for Canada's top athletes and deliver a sparkling array of programs that use sport to improve the lives of people throughout the Commonwealth."
Suzanne Weckend-Dill, who competed at Commonwealth Games in both swimming and triathlon, was elected as the Board's Athlete Representative. "I look forward to bringing my perspective as a former high-performance athlete to Board discussions, particularly as they relate to this year's Commonwealth Youth Games in Isle of Man and the 2014 Glasgow Commonwealth Games," said Weckend-Dill, the Head of Senior School Athletics and Director of Aquatics at St. George's School in Vancouver.
During his AGM address, CGC Director of Sport, Scott Stevenson, emphasized the importance of partnership as the foundation for Team Canada's success at last October's Commonwealth Games in Delhi. Moving forward, CGC will build on its solid relationships with key partners such as the Government of Canada, national sport organizations (NSOs), Own the Podium (OTP), Coaches of Canada, and Athletes CAN.
"CGC will continue to take an increasingly strategic and customized approach to our relationships with our partners," Stevenson said. "We must ensure that the successes of Canadian athletes are highlighted in order to confirm the Commonwealth Games as an essential stop along the competitive pathway."
Carla Thachuk, CGC's Director of International Programs, spoke of three showcase initiatives within the International Development through Sport (IDS) unit: South2North, a "reverse internship" that brings members of international partner organizations to Canada; the Sport Leaders Abroad Program (SLAP) which will send Canadian sport leaders abroad—including coaches, athletes and administrators—to share their expertise with international sport organizations; and, the inaugural IDS Game of Life Run/Walk, an awareness-raising event which took place in Toronto and Calgary on March 20, 2011, in partnership with The Running Room and Mizuno Canada.
"We're also very excited about a recent partnership agreement with the International Olympic Committee's (IOC) Olympic Solidarity which will expand our Capacity Support Program to 15 countries this year," added Thachuk. "With significant funding support from the Commonwealth Games Federation, the program sends qualified Canadian interns to augment the sport management capabilities of Commonwealth Games Associations and National Olympic Committees in developing countries around the world."
In his presentation about the Commonwealth Games Foundation, CGC Board VP Rob Toller emphasized the tremendous support of key corporate sponsors Hudson's Bay Company (Hbc), PCL Constructors Canada Inc., and FUEL Advertising, all of whom participated in a very successful Corporate Tour during the 2010 Commonwealth Games in Delhi.
Meanwhile, Commonwealth Games Federation (CGF) Vice-president Bruce Robertson outlined the CGF's plans for a strategic review over the next two years, which will encompass areas including its constitution, governance and branding.
Delegates to the AGM also bid a special farewell to outgoing CEO Thomas Jones. After six successful years at the helm, Jones announced in January that he would step down at the end of March. "I've been honoured to lead such a progressive and innovative organization and to be a part of the CGC family," said Jones. "With a renewed Board of Directors in place, CGC is well positioned to build on its contributions to sport in Canada and throughout the Commonwealth."
The weekend event also saw the election of 16 volunteer Members-at-Large who will contribute to CGC activities and programming over the next four years. They are:
Jim Bradley (Ajax, ON)
Rachel Bedingfield (Wolfville, NS)
Lauren Capstick (Ottawa, ON)
Danny Daniels (Sidney, BC)
Mike Davis (Ottawa, ON)
Martha Deacon (Cambridge, ON)
Joe Halstead (Markham, ON)
Wayne Hellquist (Regina, SK)
Lori Johnstone (Waterville-Sunbury County, NB)
Hannah Juneau (Alymer, QC)
Erin Kasungu (Gatineau, QC)
Marg McGregor (Ottawa, ON)
Erin McLean (Whitby, ON)
Heather Moyse (Toronto, ON)
Wayne Parro (Toronto, ON)
Mike Sutton (Halifax, ON)