Bowls Canada Nominates 10 Athletes to Canada's 2018 Commonwealth Games Team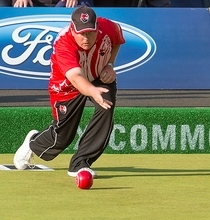 Strong Canadian presence for the greens of the 2018 Commonwealth Games
Ottawa, ON. | November 20th, 2017
Bowls Canada Boulingrin is pleased to nominate 10 athletes to represent Canada on the Australian greens for the 2018 Commonwealth Games. Five female and Five male athletes will aim their sights on the podium come April. This dynamic group of individuals will compete in multiple disciplines of singles, pairs, triples and fours. Each athlete is nominated based on their individual strength, as well as their ability to compete in a team element.
The nominated bowls team consists of Commonwealth veterans Ryan Bester, Leanne Chinery, Jacqueline Foster, Kelly McKerihen and Chris Stadnyk. This will be Chinery's third, Stadnyk's fourth and Bester's fifth Commonwealth games. With a bronze and silver individual Commonwealth medal already under Bester's belt, he is looking to add to his collection at these Gold Coast Games. Greg Wilson, Ryan Stadnyk, Cameron Lefresne, Joanna Cooper and 2017 World Youth Champion Pricilla Westlake will be adding to the strength of this team. All ten of these athletes had the opportunity to compete together at the Multi-Nations championship last June where Westlake, McKerihen, Cooper and Chinery brought home a bronze medal in the women's fours event.
Head coach Terry Scott and team manager Jean Roney will be leading the team on and off the greens in April.
"The Canadian Bowls team has proved in the past to be a competitive unit at the international level" says Head coach Terry Scott. "The mission for this side is to uphold that tradition and show once again that they can be successful on the international stage. It is a pleasure to be associated with a team of both rookies and veterans that is so committed to achieving podium results."
The complete list of Canadians nominated for the bowls events at the 2018 Commonwealth Games Team includes:
| | | | |
| --- | --- | --- | --- |
| Athlete | Events | Hometown | Bowls Club |
| Ryan Bester | Men's Singles, Pairs | Hanover, ON | Broadbeach LBC (AUS) |
| Leanne Chinery | Women's Pairs, Fours | Victoria, BC | Musgrave Hill LBC (AUS) |
| Joanna Cooper | Women's Triples, Fours | Calgary, AB | Stanley Park LBC |
| Jacqueline Foster | Women's Triples, Fours | Bridgetown, NS | Bridgetown LBC |
| Cameron Lefresne | Men's Triples, Fours | Enfield, NS | Wanderers LBC |
| Kelly McKerihen | Women's Singles, Pairs | Toronto, ON | Clayton LBC (AUS) |
| Chris Stadnyk | Men's Triples, Fours | Niagara Falls, ON | Niagara Falls LBC |
| Ryan Stadnyk | Men's Pairs, Fours | Niagara Falls, ON | Niagara Falls LBC |
| Pricilla Westlake | Women's Triples, Fours | Delta, BC | Tsawwassen LBC |
| Greg Wilson | Men's Triples, Fours | Cochrane, AB | Calgary LBC |
Detailed athlete biographies can be found at: http://www.bowlscanada.com/en/hp/senior.html
"Canada is ranked 3rd in lawn bowls over the history of the sport at the Commonwealth Games," said Claire Carver-Dias, Canada's Chef de Mission, "and we know that they will be competitive at the Gold Coast Games. Ryan Bester's silver medal at the Glasgow 2014 Games was a great performance, and we can be sure that he will be aiming for the top of the podium next April."
The 2018 Games will take place April 4-15, 2018 in Gold Coast, Australia, with 70 participating countries and over 4,000 athletes taking part.
-30-
About Bowls Canada Boulingrin
Bowls Canada Boulingrin (BCB) is the governing body responsible for lawn bowls in Canada. The BCB mission is to advance the sport of bowls in Canada. For more details on Bowls Canada Boulingrin and the sport of lawn bowls, visit www.bowlscanada.com.
ABOUT COMMONWEALTH GAMES CANADA
Commonwealth Games Canada (CGC) is the international franchise holder for the Commonwealth Games and Commonwealth movement in Canada, and an active, contributing member of the Canadian sport community. The mission of CGC is to strengthen sport within Canada and throughout the Commonwealth by participating in the Commonwealth Games and by using sport as a development tool. Visit www.commonwealthgames.ca for information.
For more information, please contact:
Anna Mees
Executive Director, Bowls Canada Boulingrin
613.244.0021 x101
amees@bowlscanada.com
For additional information on the Gold Coast 2018 Canadian Team or CGC:
Sylvie Bigras
Communications Chief
Team Canada – Gold Coast 2018
613 298 1625