Badminton Canada Nominates Eight Athletes to the 2018 Commonwealth Games Team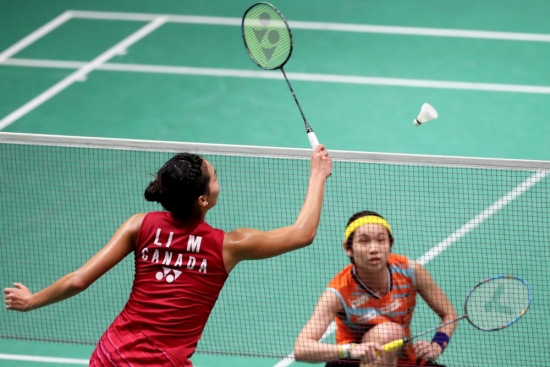 Badminton Canada is proud to nominate the eight athletes who will represent Canada as they step onto court at the 2018 Commonwealth Games in Gold Coast, Australia April 4-15, 2018. The dynamic group is composed of four men and four women that will set their sights on the podium come April.
The 10-day long event will feature a Team Event in a best of 5 tie, as well as an Individual Event; both of which are set to take place at the Carrara Sports and Leisure Centre starting April 5th 2018. The Canadian Badminton Team is composed of a roster of talented athletes which combines veteran leadership and experience, with youthful energy and ambition.
The Canadian badminton athletes nominated to the 2018 Commonwealth Games Team are:
MEN
MS/MD Jason Ho-Shue arkham, ON
MS/XD Brian Yang (Markham, ON
MD/XD Nyl Yakura (Markham, ON
MD/XD Ty Lindeman (Edmonton, AB)
WOMEN
WS/XD Michelle Li (Markham,
WS/XD Brittney Tam (Markham, ON
WD/XD Kristen Tsai (Vancouver, BC
WS/WD Rachel Honderich(Markham, ON)
"Being part of the Commonwealth Games Team for Canada is an incredible achievement" said team member, Nyl Yakura. "I take pride that I have earned my spot to be part of something big, and I am excited for the experience of representing Canada at a major international games."
The passionate team of Canadian Badminton athletes will be led by 2012 and 2016 Olympian Michelle Li, who will attend the Commonwealth Games for the second time after winning Gold at in 2014. The selected badminton athletes continuously contest themselves against world-class contenders throughout the year, and Badminton Canada is confident that this team will have many opportunities to contribute to Canada's medal count.
"It is an honor to represent Canada again at the Commonwealth Games; winning gold in Glasgow was one of the most memorable experiences of my athletic career" said Michelle Li, "I am really looking forward to competing in Australia and bringing home another medal for Canada!"
Historically, Badminton Canada faces fierce competition at the Commonwealth Games, competing against strong badminton countries such as India, England, and Malaysia. Badminton Canada remains hopeful that the recent success at the 2014 Commonwealth Games in Glasgow, is the start of a strong future for badminton in Canada.
"Having competed in the 1990 Commonwealth Games, I know our athletes and coaches are in for a fantastic experience that will last a lifetime" said Anil Kaul, President of Badminton Canada. "This will be an excellent experience and preparation towards competing at the 2020 Olympic Games! I want to wish our team the best as they represent our badminton community, our organization, and our nation at the 2018 Commonwealth Games!
"Congratulations to our strong badminton contingent heading to the 2018 Commonwealth Games in Gold Coast," said Chef de Mission Claire Carver-Dias. "I look forward to seeing Canada chase another Commonwealth gold on the court!"
The entire Canadian Team will be officially announced by Commonwealth Games Canada in March 2018.
The 2018 Games will take place April 4-15, 2018 in Gold Coast, Australia, with 70 participating countries and over 4000 athletes taking part.
ABOUT COMMONWEALTH GAMES CANADA
Commonwealth Games Canada (CGC) is the international franchise holder for the Commonwealth Games and Commonwealth movement in Canada, and an active, contributing member of the Canadian sport community. The mission of CGC is to strengthen sport within Canada and throughout the Commonwealth by participating in the Commonwealth Games and by using sport as a development tool. Visit www.commonwealthgames.ca for information.
ABOUT BADMINTON CANADA
Badminton Canada is the national governing body for the sport of badminton in the country, recognized by the Canadian Olympic Committee. The mission on Badminton Canada is Canadians unified as one to grow the sport of badminton in and Canada and to challenge the world in our sport. The organization's vision is to inspire, promote, govern and develop exceptional badminton experiences in Canada and lead a world class Canadian Badminton sports system. For more information please go to: www.badminton.ca
-2-
For more information about Badminton Canada
Michael Luck
Events & Communications, Officer
Badminton Canada
(613)748-5674 ext. 223
For additional information on the Gold Coast 2018 Canadian Team or CGC:
Sylvie Bigras
Communications Chief
Team Canada – Gold Coast 2018
613 298 1625