Athletics Competition Ends for Team Canada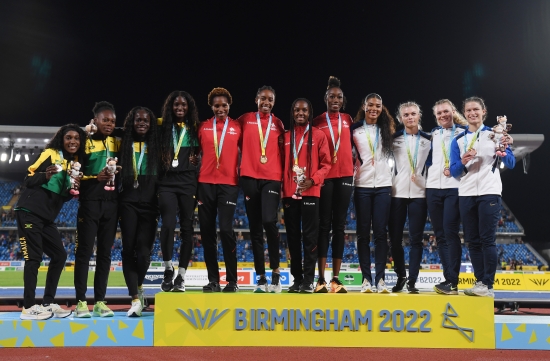 After seven electrifying days of competition, the Commonwealth Games came to a close on Sunday. Canada's athletics team ended the competition having won four gold, one silver and two bronze medals.
The team gathered to Alexander Stadium for Sunday's morning session still electrified from Saturday's hammer throw finals, and Evan Dunfee did plenty to keep the morale high. A historic performance by the race walker elevated Canada early in the day, and a breathtaking 4x400m finish between Canada and England closed the championship on perhaps its most exciting moment. Here are the few stories that characterized the final day of competition in Birmingham.
Dunfee drops down in distance, steals the show in the morning session
Evan Dunfee seemed almost out of place as he lined behind the 10,000m race walk start line. Not only are his fans more used to seeing the Olympic 50k race walk bronze medalist compete in much longer distances, they also rarely see the road racer on the track.
Nonetheless, with one of the fastest 10,000m times in the field, Dunfee entered the race a contender. He walked with the lead pack from the start, splitting 5k in 19:23 – on pace to challenge his personal best of 38 minutes and 39 seconds.
Shortly after the halfway mark, Declan Tingay of Australia made a move that spread out the field and gave him a five second lead on the tall Canadian. But Dunfee soon walked to the front of the chase pack and slowly started reeling in the Australian, narrowing his gap with each passing kilometre.
With one lap to go, Tingay and Dunfee alone in the front, as athletes around the track, drenched in sweat under the mid-day sun, incurred loss of contact warnings. With 300m left to cover, Dunfee swung wide and took the lead, putting a gap on Tingay that widened until the pair reached the finish line. The Canadian crossed first in 38:36.37 to earn his first Commonwealth Games medal. It was a Commonwealth Games record and a national record.
"Just to believe in myself, as much as my friends and family back home believe in me, was the goal today," said Dunfee, adding that he was thrilled by his result despite dropping down from the now-defunct 50k distance.
"I knew I had to keep it fast. Anytime the pace slow I'd go straight to the front… little by little guys fell off the back," he said.
"Sitting back behind Declan I thought 'he might get away with this this might be his, but I'm going to get a medal, that's awesome' then I was like 'no, no, believe in yourself, what are you doing? Take it away."
4x400m women close the loop for Canada
Coming into the championship, Team Canada coach Glenroy Gilbert said he was excited at the prospect of fielding so many strong 400m women, but team Canada fans had to wait until the very last event to see Natassha McDonald, Aiyanna Stiverne, Micha Powell and Kyra Constantine join forces.
All four, weathered from the World Championships and Commonwealth 400m individual races (200m for McDonald), faced stellar teams from England, Jamaica and Scotland on Sunday afternoon.
McDonald, coming off a seventh-place finish in yesterday's 200m final, ran the first leg for Canada, rounding the track one step behind England and Jamaica's starters.
She passed the baton to individual 400m semi-finalist Aiyanna Stiverne, who further closed the gap on the leading runners. When she passed it to Micha Powell, also a semi-finalist in the individual 400m, the Canadians, Jamaicans and Brits ran in a perfect train, each separated by ten metres. Near the end of her lap, England started pulling away.
Powell made a perfect pass to anchor Kyra Constantine, who exploded out of the exchange zone, not 12 hours removed from finishing seventh in the individual 400m final.
Constantine rounded the first bend 40 metres behind England and Jamaica, and started reeling in her competitors. She charged past the Jamaican athlete with barely 200m left to go, and ran abreast with England's closer. They both dipped at the line in what seemed like a dead heat. It was too close to call, and the four athletes of each team crouched in the finishing area, waiting for the clock's reading.
The clock read that England had held on: 3:25.83 to 3:25.84. Canada, a hair away from glory, prepared to add a silver medal to their overall count. Minutes after the competition, however, it was revealed that England was disqualified for a lane violation, making Canada the 4x400m champions.
Kyra Constantine said she couldn't tell whether or not she had bested her rival.
"I got the baton in a really good position, all that was left for me to do was to fight I guess. I'm proud and happy. I feel like everybody did their part really well."
The quartet left the track with their heads held high, under cheers of encouragement.
"There is this chemistry that we keep building every single race," said Powell. "I can't say enough about these incredible women. We fought for every single stride – we belong out there."
Gleadle repeats as fourth-place finisher in the Javelin
On the inside of the track during the morning's race-walking final, javelin thrower Liz Gleadle was looking to improve on her last Commonwealth Games finish: fourth at the 2018 edition in Gold Coast.
The Vancouver-based thrower, coming off a ninth-place finish at the World Championship and an 11th national championship in June, again ranked in the top four on the start list. She delivered early: her third throw of 59.79m put her in third place halfway into the competition.
In the next round, Annu Rani of India's 60.00m throw relegated Gleadle to fourth, and the order remained the same until the competition's end. The 33-year-old thrower called her performance "not bad, not good enough."
"Javelin is a matter of timing," she said, moments after her last throw. "You can throw 59, you can throw 64. I wasn't quite throwing through the point of the javelin, I was quite underneath it, and was throwing a little high."
"The competition was pretty good, but from a technical standpoint, it wasn't quite enough."
Stafford, Staehli fight adversity and contend in distance finals
The buildup to the Commonwealth Games has not been straightforward for distance athletes Lucia Stafford and Julie-Anne Staehli. Stafford, a 1,500m specialist, spent most of the time between her 1,500m race in the world championships heats last month and the Commonwealth Games fighting COVID-19. Despite that, she found a way to qualify for the 1,500m final in Birmingham and eventually held on for 11th place in a time of 4:13.83.
"I'm just really tired – that was the best I had," she said. "All you can ask for yourself is to do your best. I know it's very far from where I want to be, but I always count on myself to do my best."
Staehli, meanwhile, dealt with a tibial stress reaction all spring – the Commonwealth Games final was her first race since March, and her first 5,000m since last summer's Olympic Games. The 28-year-old finished 15th, stopping the clock at 15:39.23.
"Having the opportunity to race, I was just like 'go out there and give it everything you've got' You can never take for granted those things."
Defending Champion Nettey has tough day at long jump pit
Christabel Nettey came to the long jump pit looking to defend her Commonwealth Games title from 2018, but fate had different plans. The Canadian record holder finished ninth, with a best jump of 6.41m.
Nettey, whose personal best sits at 6.99m, said she was disappointed with the numbers, and is left wondering where her game could be improved.
"I'm not really sure what happened, but I pretty much had an identical competition that I had at worlds," she said, adding that mid-season technical changes had enabled her to jump a near-best of 6.87m in late May.
"It's definitely rough to come to majors when you were at the top and now you're fighting for a qualifying spot."