Stellar Performance from Michelle Li: Gold Medallist in Badminton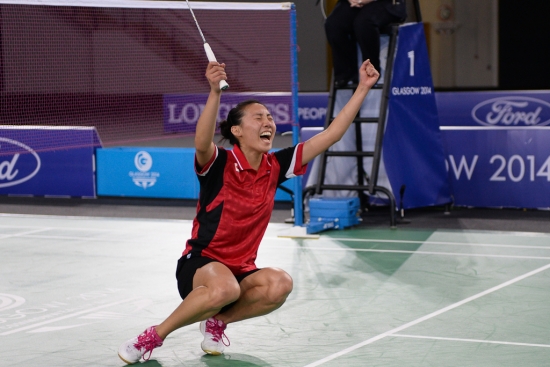 Michelle Li made Canadian badminton history in the final of the Commonwealth Games women's singles, becoming the first Canadian woman to stand on top of the podium after a stellar win in the final against local favorite Kirsty Gilmour of Scotland.
Currently ranked 20th in the world and seeded third in the Commonwealth competition, Michelle Li upset top-seed and favorite P.V. Sindhu (India, 11th in World Ranking) in an epic semi-final (22-20, 22-20) that brought emotional tears in the eyes of her teammates.
The final was played in a jammed packed Emirates Arena, rocking with support for Scottish Kirsty Gilmour. Michelle Li was not impressed by the atmosphere and the higher rank of her opponent and immediately took control of the match. She always had a few points in hand in the first set and won it 21-14.
In the second set, Michelle swiftly built an overwhelming lead to finish with a clean 21-7 win, becoming not only the first Canadian woman to win a badminton gold medal, but also the first Canadian singles player to do so since Jamie Paulson in 1970 (Edinburgh, men's singles).