Joanna Brown Wins Canada's First Medal of the Games - Bronze in Triathlon!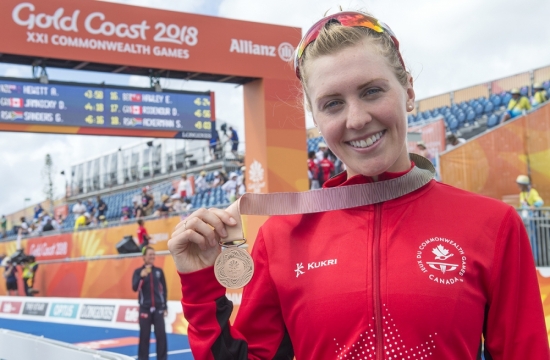 GOLD COAST, Aus.—Joanna Brown notched Canada's first medal at the 2018 Commonwealth Games on Thursday after battling to the bronze in the women's individual triathlon race at the Gold Coast, Australia.
Competing in her first Commonwealth Games, the 25-year-old Brown took on many of top stars in the world of women's triathlon to win her first international multi-sport Games medal after putting down the fastest five-kilometre run time in the field at 16:31, and storming to the final spot on the podium with an overall time of 57:38.
"I can't put this into words right now," said Brown, who was racing for the first time in more than a month following a hard crash on the bike at the season-opening World Triathlon Series race.
"It has been a really chaotic month after fracturing my shoulder in Abu Dhabi, and then just trying to make it back to this race. I have the most amazing support team behind me helping me out, and incredible teammates to get me through this. I was just so happy to be here, to race and even just to finish the race."
Brown is no stranger to battling adversity.
A top prospect in the Canadian ranks after winning bronze medals at both the Junior (2011) and Under-23 (2012) World Championships, Brown was ready to call it a career just 24 months ago while battling a string of injuries over a four-year period. Things quickly changed thanks to a strong team of supporters, and a move to Triathlon Canada's National Performance Centre in Victoria to work with head coach Jono Hall.
A career turning point for sure, Brown has been on an incredible ride ever since – having racked up three World Cup podiums along with a handful of top-10 results on the World Triathlon Series last year including back-to-back fourth-place finishes. She capped off the memorable 2017 season with a fifth-place result at the Grand Final.
The 2018 season got off to a tough start with her crash at the World Triathlon Series opener, but Brown once again demonstrated her grit and resilience – this time on a major stage.
Heading to the start pontoon on the Gold Coast's Broadwater with 24 women across the British Commonwealth, Brown came out of the rare 750-metre anticlockwise swim course in 11th spot. After picking up one spot in the first transition zone, the Carp, Ont. resident played it cautious through the four-lap bike course.
"I just chilled out on the bike. I was a bit hesitant because of the crash four weeks ago and I haven't spent lots of time on the road so I just kind of hung out for the ride," said Brown.
Confident and poised, the lanky Canuck rocketed past the stunning vistas that are featured on the five-kilometre run course around the Southport Broadwater Parklands in the heart of the Gold Coast. Running at a lightening-quick pace, Brown picked off the field one-by-one over the two-lap course before engaging in a fierce battle with Australia's Ashleigh Gentle and England's Vicky Holland for the final spot on the podium.
When the dust finally settled, Brown scribed her name in the history books as just the fourth Canadian triathlete ever to win a Commonwealth Games medal.
"I knew that I had been running really fast because I have had a few really good run workouts," added an elated Brown. "I know I have a good finish, and I wanted it today, so I kicked as hard as I could for the finish and came away with the bronze. I'm just so happy."
Simon Whitfield and Carol Montgomery won gold for Canada at triathlon's Commonwealth Games debut in 2002. Kirsten Sweetland won the silver medal at the 2014 Games in Glasgow.
Bermuda's Flora Duffy led wire-to-wire to claim her first Commonwealth Games title. First out of the water, the determined Duffy opened a lead on the bike and never looked back, winning the gold medal with a time of 56:50
England's Jessica Learmonth, who kept pace with Duffy throughout the bike course, was the next best finisher 43 seconds back with a time of 57:33.
Brown's teammate, Dominika Jamnicky of Guelph, Ont., was steady throughout all three disciplines to finish 14th with a time of 1:01:08. Coming out of the swim further back in the pack than anticipated, Jamnicky (who was born in South Australia) dug deep to battle back into the top-15.
"I gave everything I had today. It was bittersweet because I was close getting onto the pack on the bike, but I dangled in that pack behind the main pack. In end I worked well with the two other girls I had with me today, and I gave my country everything I had today," said Jamnicky, whose mom competed for Australia at the 2000 Commonwealth Games. "It has come full circle for me. My mom is my role model so to hug her at the sidelines was amazing. I'll hold that memory close to my heart. This is my first major games. I can't wait to have the opportunity to do it again."
Canada's rising star in triathlon was no slouch either in her first major multi-sport competition. Teenager Desirae Ridenour, of Cowichan Bay, B.C., posted a 17th-place time of 1:03:46.
Triathlon Attaché in Gold Coast: Amanda.Nigh@athletics.ca +61 0478 732 154