AN INTERN'S APPROACH TO LEADERSHIP AND DEVELOPMENT ((Reprint Courtesy of CAAWS)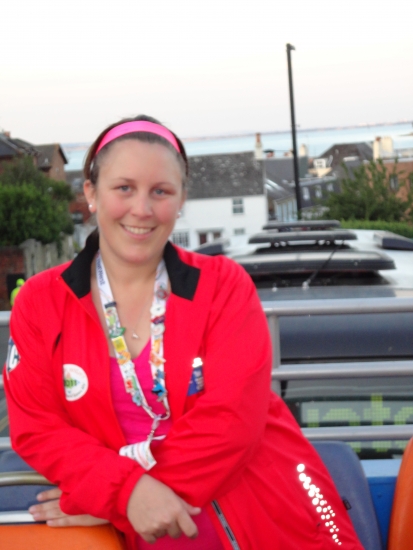 When I was first offered my current role as a Capacity Support Officer (CSO) in the Falkland Islands as part of Commonwealth Games Canada's (CGC) Capacity Support Program (CSP), I had an overwhelming feeling of nerves. How can I impact sport at a national level at age 29, two years after completing a Masters' in sport management, and having focused my career until now at the community level? My knowledge of sport at a national level came from a Canadian and British education, both are countries where there are layers and layers of governing bodies and the experience required to work at any of those levels far outweighs what I have done to date. Combine these worries with a daunting move 7,000 kilometres south, WAY south! You can understand my hesitation, but how could I say no! My placement began in April 2011.
The Capacity Support Program is now in its third year, funded by the Commonwealth Games Federation and Olympic Solidarity. The aim is to send recent University graduates to "developing" (in sport, not necessarily economically) Commonwealth nations to assist with sport administration and help implement Zeus – Commonwealth Games Federation's new Games management database. Within each host country the CSO's tasks are dictated by their supervisor and vary quite a lot between hosts. The program is a learning opportunity for both host and intern, with the host benefitting from the sport and administrative background of the intern, and the intern benefitting from the experience of working at a national level.
CGC hosted a one week pre-departure training to prepare us all for the upcoming year; this was a vital piece in my understanding of what was expected of me and what was attainable, and it gave me more confidence that my knowledge and experience will go a long way in a country that is still developing its sport structure. I learned that we, the CSOs, were chosen based on our leadership abilities and a strong enough understanding of developed sport systems to help our host country in adapting and improving their own structure.
Working in a developing nation proved to have its work cut out; people do not like change and they do not like foreigners enforcing that change even more. What became quite clear to me is that to lead sport in the Falklands to a sustainable structure I would have to follow; follow what the citizens want, in other words listen to ideas, listen to suggestions, and listen to the words of the people who will be the administrators of this structure as it is recreated. I have proceeded to meet with each of the sports represented internationally to discuss what their needs are, what they self-identify as their strengths and weaknesses, and what they think their club needs to do to develop. I do the same but on a much more regular basis with my host organization, the Falkland Islands Overseas Games Association (FIOGA), to get their constant feedback on how they think I can be helpful and what they would like to see improve.
In this context, leadership is facilitation. I facilitated discussions with the committees I met with in order to create a constructive brainstorming sessions. I also facilitated the administration process by providing draft templates of key organizational documents (i.e. constitution, by-laws, long term plans, athlete development models, etc…) with multiple examples of how they can be adapted to best suit the organization. I ended the meetings with a summary of the discussion that was just had, adding in some of my own suggestions, next steps and finally, how I could be of assistance should they need.
A second task I have been assigned as the CSO in the Falkland Islands is coach and athlete development. I remember having a discussion about this at pre-departure training and how easy it will be for us to get sucked in to the world of coaching, especially since many of us have been sent to countries based on the sports we practice and/or coach. However, this does not generate sustainability since we are only on one year contracts. I took the approach of coaching the coaches while they coach the athletes; this means the athletes are not depending on me for a strong training session and I am transferring my skills into local volunteers who are passionate and willing to help but have not yet been given the tools to do so.
A challenging aspect of being a small developing country for sport is that the Falkland Islands do not have national coaching structures in place, nor are there national athlete training centres. The solution has been to link with clubs overseas, mainly in the UK, in order to send athletes for competition and training, and to bring coaches down to work with the athletes locally and train the coaches. This is costly, but a much more effective way of developing sport in the Falklands compared to sending their stronger athletes away to train.
Working in international sport is a challenging yet rewarding opportunity. It has taken me a few months to learn the best approach to make an impact, and to learn that leadership is not actually defined by a "follow me" mentality. My experience to date has been positive and rewarding; I'm happy to have been given this opportunity and I hope to gain as much as I can from it while transferring as much of what I already know.
For more about Natalie visit http://www.commonwealthgames.ca/ids/what-we-do/ids-internships/natalie-brett-falkland-islands.html