Ellie Black wins all-around gold at 2018 Commonwealth Games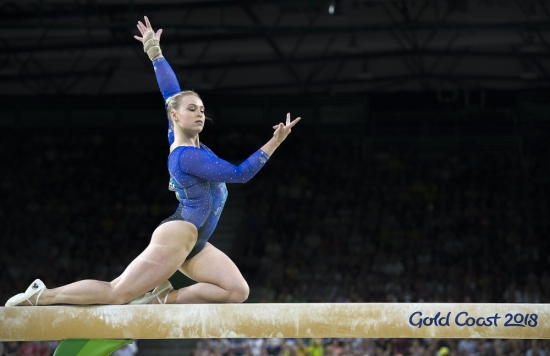 GOLD COAST, AUS (April 7, 2018) – It was another golden day for Ellie Black of Halifax, NS as she walked away from the women's all-around competition with a second gold medal around her neck to match the gold she won in the team event on Friday night.
Black fell on beam, but laid down top scores on both vault and floor to take the Commonwealth title with a total score of 54.200. Australian Georgia Goodwin took the silver with a score of 53.800, while Alice Kinsella of England captured the bronze with a score of 53.150. Isabela Onyshko of Brandon, MB finished the day in 8th with a total score of 51.900.
"This is honestly incredible," said Black. "The medal yesterday was honestly more special because I don't think I've ever won a gold medal in the team competition ever, and to come out here and to win a gold at the Commonwealth for Canada in the all-around, that's also something super special and I'm so thankful for this opportunity. It's a big step-up from the last Games in the all-around and the team, so I'm just really proud of what the Canadians have done so far, and we still have finals to come, so we're very excited for those!"
Onyshko had a solid meet, and was happy to just be competing in the all-around after battling injuries over the last few months: "I did have some mistakes today - it wasn't my best meet, but I was just really happy at this point in time to be out there. My coach and I didn't think I would be because of injuries, so I'm just happy to be where I am today."
Earlier in the day, Rene Cournoyer of Repentigny competed in the men's all-around competition and finished 8th with a total score of 80.800. Nile Wilson of England took the gold with a score of 84.950; James Hall, also of England took silver with a score of 83.975, while Marios Georgiou of Cyprus captured bronze with a score of 83.750.
"I made a lot of mistakes today that really hurt my result, but overall I'm really happy with what I did, and to see that I was this close to the top rankings, even with those mistakes, is pretty promising for the future," said Cournoyer who faltered in his first floor pass, and had a small mistake on pommel horse.
The apparatus finals begin on Sunday and will see the following athletes compete:
Men's Floor: Scott Morgan
Pommel Horse: Zach Clay
Women's Vault: Black, Shallon Olsen
Rings: Morgan, Cournoyer
Uneven bars: Onyshko, Brittany Rogers
Monday will feature the following athletes in finals:
Men's Vault: Cournoyer, Morgan
Parallel Bars: Cory Paterson, Cournoyer
Beam: Black, Onyshko
Women's Floor: Black, Olsen
High bar: Cournoyer, Paterson
For complete results visit: https://results.gc2018.com/en/artistic-gymnastics/results-m-qual-000003-.htm
Julie Forget
+61 0421 006 831 (from Canada)
421 006 831 (in Australia)
Email: jforget@gymcan.org