COMMONWEALTH GAMES CANADA CELEBRATES KELLY LAFRAMBOISE'S 30 YEARS WITH THE ORGANIZATION!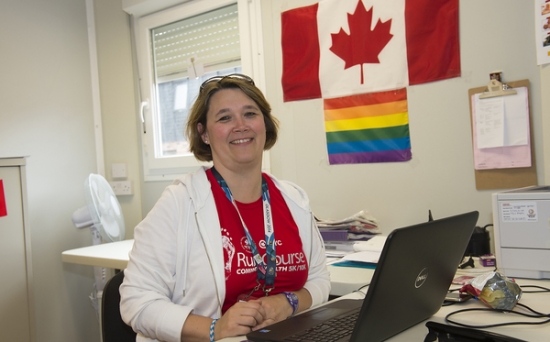 Incredible! Kelly Laframboise has been with Commonwealth Games Canada (CGC) since November 16th, 1989! Thirty years – yes, three decades – of leading the logistics of Team Canada's participation at the Commonwealth Games which take place every four years. Known for her attention to detail, strong work ethic and love for the colour purple, Kelly has established herself as one of THE Canadian leaders in Games management.
Brian MacPherson, the CEO of CGC, is proud of Kelly's long service to the organization:
"Kelly's tenure with CGC is a testament to her genuine passion and dedication to making a difference for people and communities through Commonwealth sport", he says. "CGC and Commonwealth sport are lucky to have her, and I know I speak for many in Canada's sport community who say the same!"
Kelly spent a few years with Field Hockey before taking on the Games management role with CGC. Such is her capacity to manage multiple responsibilities that the Games host committees cannot believe she is a one woman show in managing the logistics around Canada's participation at the Games. Other international games franchise holders have "full departments that do the same thing!" they are often heard to say. Kelly manages the relationship with the host organizing committee, travel needs of Team Canada, registration and accreditation (athletes, coaches, support staff, mission team, etc.), selection of the team's accommodation in the Athlete's Village, set-up of the Mission Team offices, and much more!
Karen O'Neill, CEO of the Canadian Paralympic Committee and former CEO of the CGC appreciates the years she spent working with Kelly:
"It is hard to believe that it has been 30 years that Kelly has been at Commonwealth Games; I cannot imagine the Commonwealth Games without Kelly! It was a pleasure to work with her, and within just a few weeks, I came to depend upon her skill, background knowledge and experience as a guide and beacon as we all jumped in with both feet to complete preparations for Team Canada to participate in the 1998 Commonwealth Games in Kuala Lumpur. I also become quickly dependent upon Kelly's direct and no-nonsense approach to get things done. Always one to share her thoughts and call out things when she did not think them fair nor supportive of our athletes and volunteers- a trait I cherish to this day! In a heartbeat, Kelly continues to be on my gold medal podium as a great example of resilient, talented leaders in Canadian Sport."
On the personal side, Kelly met her husband Charles Laframboise when they both worked at Field Hockey Canada; the two will celebrate 25 years of marriage in 2020! Their children Melanie and Matthieu have both been active in sport and Charles chuckles that although they are relatively short, they picked tall people sports – volleyball and basketball respectively! When asked about some of the highlights in his wife's career, Charles offers the chat with the Queen at the Victoria 1994 Games – and "not just an encounter, but a long chat!" – something those of us who know Kelly find very easy to believe. Kelly also notes the first time she walked into the Opening Ceremony with Team Canada as one of her most precious Games' memories.
Kelly's love of the colour purple is legendary and immediately obvious upon meeting her, but did you know that she has a love for elephants as well? And if the elephant happens to be purple too – well that's heaven!
Bruce Robertson, involved as a volunteer with CGC since 1982 and now Vice-President of the Commonwealth Games Federation, has known Kelly since her first day at the CGC:
"When Kelly first started, I was CGC's Treasurer. In those days, volunteers did everything from writing and mailing cheques, to building budgets, to maintaining the books. Hard to believe, but Kelly was keen to learn and take on the CGC's accounts, something I will be forever grateful for. Kelly has always been a hard worker, has excellent judgement, is a calm and steadying influence, and is full of integrity. I hope she knows she will never be allowed to retire."
David Bedford, currently CEO of Athletics Canada, was Team Canada's Executive Director for the 2018 Commonwealth Games in Gold Coast, Australia, and sums up Kelly's contribution to CGC and Canadian sport very well:
"I have been in the Canadian sport system for almost 40 years now, and until 2016 I had, unbelievably, never met Kelly Laframboise. I had certainly heard about Kelly, from supporters and detractors (we all have them!). I was chosen early in 2016 to be the Executive Director of the 2018 Gold Coast Commonwealth Games, and as such was told the person I would work most closely with was Kelly. Well, to say that turned out to be one of the highlights of my sports career would be a huge understatement. Kelly is several things – smart, hard working, dedicated, passionate, purple, loud (best laugh ever) – but most of all she is loyal. Loyal to her family. Loyal to the CGC. Quite simply, the CGC could not do without Kelly Laframboise!"
30 years in one organization is quite an accomplishment, and 30 years of delivering year after year at a high level – that is a record to be proud of. All at Commonwealth Games Canada thank Kelly for her incredible devotion to the Commonwealth sport movement, and we look forward to working with her at many more Games to come!
Bravo Kelly!