Canadian Bowlers Feel Right at Home in Gold Coast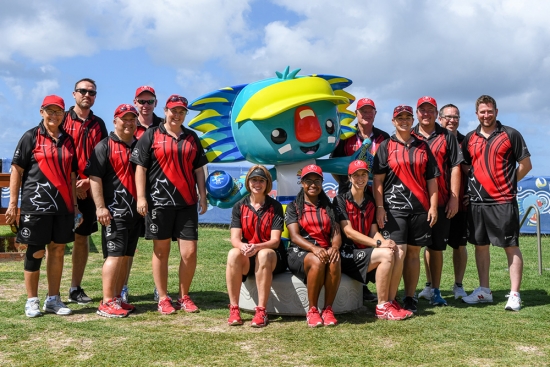 On April 5th, the Canadian lawn bowling team takes to the manicured rinks of the Broadbeach Bowls Club in beautiful Gold Coast, Australia at the XXI Commonwealth Games.
While some members of the ten-strong Canadian squad traveled halfway around the world, a few full-time Southern hemisphere bowlers didn't have to worry about jetlag. Three Canadian bowlers call Australia home and one of them, four-time Commonwealth Games veteran and triple medallist Ryan Bester (Hanover, ON), is Greens Coordinator of the Broadbeach Bowls Club.
In addition to not having to battle jet lag, these bowlers are well versed in bowling in warmer climes. Leanne Chinery (Victoria, BC), lead in the women's pairs and skip of the women's fours, recently moved to Gold Coast from New Zealand and explains: "There is a huge advantage to playing in the Southern Hemisphere. The Canadian season is so short and it really limits the amount of bowls you can play and also limits the amount of competitive bowls you can play." Chinery shared that the competition is stronger in Australia and that being exposed to it only improves your game as an individual. The Canadian team also recently hired high performance coach Terry Scott (Cromwell, NZ) of New Zealand to provide support.
Despite the distance, most of the players on the Canadian squad are no strangers to Broadbeach Bowls Club. Last June, the women's fours had to compete here and medal to earn their Commonwealth Games berth. This knowledge of the venue will come in handy, in addition to the intelligence gathered by Canadians players who competed here last month at the Youth World Cup, who shared which greens were quicker, which ones were slower and how they played at night.
When asked to comment about Canada's toughest competition, team manager Jean Roney (Regina, SK) shared: "When we play here, Australia and New Zealand are definite threats, but you can't discount world powers England and Scotland, as well as South Africa. You also can't discount some of the smaller lesser known bowls countries such Nuie and India at these Games, since some of their players play full-time in the Australian leagues."
In addition to seasoned veterans, the Canadian women's team has fresh new blood in Pricilla Westlake (Delta, BC), the reigning World U25 Youth Champion in singles who is very excited to make her Commonwealth Games debut: "I am most looking forward to the opportunity to potentially medal at the biggest event, the pinnacle event of our sport. So being able to wear the maple leaf and to represent Canada with pride and all the emotion attached to it, it just means so much to me. I want to do well for every one of my supporters, my teammates and my coaches."
The Canadian team will take to the rinks on April 5th, with men's triples (Greg Wilson (Cochrane, AB), Chris Stadnyk (Niagara Falls, ON), Cameron LeFresne (Enfield, NS) and women's singles (Kelly McKerihen, (Toronto,ON)) in preliminary action.
Helene Lavigne
+61 0435301873
Photo by Yan Huckendubler/CGC