CANADA WRAPS THE 2018 GOLD COAST COMMONWEALTH GAMES WITH A TOTAL OF 82 MEDALS!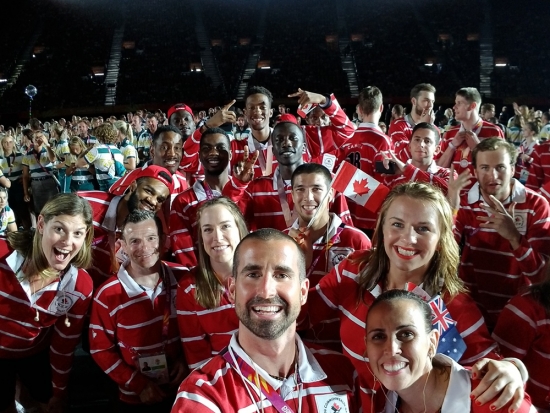 Green and Yellow Wave – Host Australians Surf To the Top With 198 Medals
GOLD COAST, AUSTRALIA – On the last day of competition at these XXI Commonwealth Games in Gold Coast, it was fitting that the sun shone, the waters gleamed and the temperature topped 30 degrees. Throughout the 11 days of competition, host Australia has treated the 71 participating nations to a breathtaking Games – with some saying perhaps the best ever.
From the spectacular Athletes Village, to superb venues, the welcoming smiles of volunteers, enthusiastic public and appreciative audiences, this will be a Commonwealth Games to remember. Participants and visitors also appreciated the beautiful locale that is the Gold Coast – and the beaches, surf and sand did not disappoint.
The Host Team, as was expected, topped the medals chart at 198. With a huge team (720 athletes), the home crowds, home venue familiarity, and government investment in sport (more than double Canada - $415M to our $207M), it was expected that the Australians would dominate at the Games. The host team also benefitted from a $15.5m 'top up' in 2017 from the Australian government –this top up alone was more than 9 times the entire Canadian team budget! Such is the value of hosting the Commonwealth Games for the host nation's sports and athletes. Commonwealth Games Canada is committed to hosting a Games in Canada, possibly in 2030 to mark the 100th Anniversary of the inaugural Games which were held in Hamilton, Ontario.
With its top 3 placing at the 2018 Games, Canadian athletes offered up a variety of amazing performances, such as the 20 medals won in the pool, with Taylor Ruck tying the record for most medals at a Commonwealth Games (a total of 8). Other great Canadian highlights included Erica Wiebe's repeat gold in wrestling, Sarah Pavan and Melissa Humana-Paredes' gold in the inaugural beach volleyball event, Alysha Newman's gold and Games record in the pole vault, the men's basketball "buzzer beater" semi-final win, and many more. Canadian women were particularly successful, winning 51 medals to the men's total of 31.
"It has been an honour to support these amazing Canadian athletes here in Gold Coast", said Claire Carver-Dias, Canada's Chef de Mission. "They fought, they pushed and they excelled in many areas; it was a privilege for Assistant-Chef Ben Huot and I to share these 11 days with such a spectacular group of men and women. Canadians should be proud and I hope will cheer them on to success in Tokyo 2020 and Birmingham 2022."
71 nations and territories "Shared the Dream" at the Gold Coast XXI Commonwealth Games, with over 6,500 athletes and officials taking part. These Games provided a number of "firsts" - the most inclusive in history, with an equal number of medal events for men and women, a "Reconciliation Action Plan" for Aboriginal cultures, as well as a completely integrated Para-sport program.
For further information:
2018 Commonwealth Games – Team Canada
Sylvie Bigras
Communications Chief
+61 422 445 960 (Gold Coast)
ABOUT COMMONWEALTH GAMES CANADA
Commonwealth Games Canada (CGC) is the franchise holder for the Commonwealth Games and Commonwealth movement in Canada, and an active, contributing member of the Canadian sport community. The mission of CGC is to strengthen sport within Canada and throughout the Commonwealth by participating in the Commonwealth Games and by using sport as a development tool. CGC builds a better Commonwealth through sport. Visit www.commonwealthgames.cafor information.