Canada Embraces Australian Beach Life with Gold Coast Opening Ceremony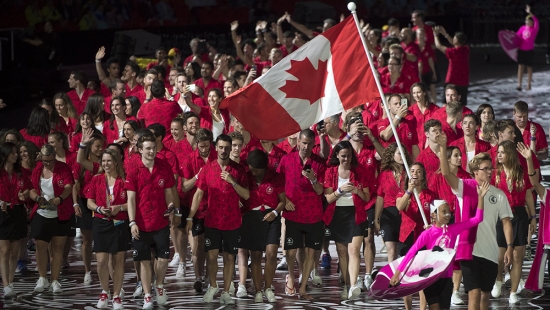 GOLD COAST, AUS, April 4, 2018 - Team Canada athletes were treated to a celebration of Gold Coast Australian beach life and indigenous' culture tonight, as more than 4,000 ceremonies performers welcomed thousands of fans, athletes and officials at Carrara Stadium for the XXI Commonwealth Games.
Led by two-time Commonwealth champion and three-time Olympic bronze medalist flag-bearer Meaghan Benfeito, just under 200 members of Team Canada walked in the ceremonies with athletes representing the sports of badminton, boxing, diving, gymnastics, field hockey, lawn bowls, squash, shooting, table tennis and weightlifting. Walking in the ceremony, Team Canada helped represent the more than 6,600 total athletes and team officials participating in the Gold Coast games from 71 Commonwealth nations and territories.
"Wearing the maple leaf and representing Canada on the international stage is such a huge privilege for our athletes," said Team Canada Chef de Mission Claire Carver-Dias. "The experience of walking into this Opening Ceremony alongside our country's best athletes and being treated to such an impressive show by our gracious Australian hosts, will stay with these athletes for a lifetime. What a show, and what a Games we are about to be treated to."
Featuring an artificial beach with tonnes of sand, a giant whale, thousands of beach-themed dancers and performers, aboriginal artwork and a 500-piece didgeridoo orchestra, the three-hour ceremony did not disappoint first-time Commonwealth Games athletes who had never attended a ceremony before.
"The atmosphere was exciting with so many countries celebrating together, the march into the stadium was definitely my favourite part," said Kristen Tsai, a member of Canada's badminton team. "I love the royal family, and was surprised and excited to see Prince Charles; that was a thrill. The ceremonies made me super excited and proud to be representing Canada and looking forward to doing my best here in competition."
Broadcast to an outstanding 1.5 billion people worldwide, ceremony lighting effects included a breaking wave and the animated flags of the participating nations and territories. The opening ceremony was attended by almost 35,000 including His Royal Highness Prince Charles and Camilla, the Duchess of Cornwall, as well as Prince Edward, Prime Minister Malcolm Turnbull and the Commonwealth Games Federation's vice-patron. A poignant moment in the ceremony was the unveiling of a special message by Prince Charles from Her Majesty Queen Elizabeth II upon the arrival of the Queen's Baton Relay after its international and national journey.
With the ceremony having set the tone for the 2018 Gold Coast Commonwealth Games, competition begins Thursday with Canadians competing in men's artistic gymnastics, badminton, track cycling, women's field hockey, lawn bowls, squash, swimming, table tennis, triathlon and weightlifting.