Toronto and Calgary to host The Game of Life Run/Walk, a joint CGC-Running Room event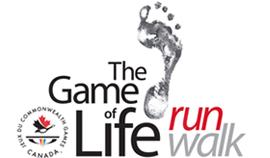 Commonwealth Games Canada (CGC) and The Running Room are teaming up this March for an event to raise awareness about CGC's International Development through Sport (IDS) initiatives.
The Game of Life Run/Walk will be held on March 20, 2011, in Toronto and Calgary. Participants can choose to walk or run a 10K or 5K distance, with all funds raised going to support CGC's IDS programming.
"Commonwealth Games Canada is thrilled that The Running Room has offered to work with us on this exciting event," says Thomas Jones, CEO of CGC. "This is a terrific opportunity to tell Canadians about all the International Development through Sport work our organization supports. Many people aren't aware that our job goes beyond sending Team Canada to the Commonwealth Games every four years."
One of the responsibilities of CGC's IDS unit is to support local and regional partners in developing countries throughout the Commonwealth in the delivery of programming that uses sport as a tool for social development. It currently funds programs such as Kicking AIDS Out (KAO), which operates in Africa and the Caribbean. KAO uses a variety of sports as a tool to empower young people and educate them about HIV and AIDS. In addition, the IDS unit runs several internship programs, including one that currently sends young Canadians overseas to assist Commonwealth Games Associations in developing countries. For more information on IDS programming, please visit www.commonwealthgames.ca/ids.
John Stanton, founder and president of the Edmonton-based Running Room and a CGC board member, is enthusiastic in his support for CGC's IDS unit. "These young men and women — future leaders in their communities — are doing real, grassroots work in these areas and making lives better for young people on a daily basis," says Stanton. "There's a whole other component to what CGC does and I'm delighted that these runs will help to shine a light on these extraordinary people."
Carla Thachuk, Manager of International Programs at CGC, says The Running Room's support has been "invaluable" in planning The Game of Life Run/Walk. "Their expertise in planning an event of this type is second to none," Thachuk says. "They've been with us every step of the way." The volunteer race coordinating teams in each city are made up primarily of IDS Alumni — veterans of IDS's internship programs — who are being assisted by local Running Room staff. "This marks the first time our IDS Alumni have worked on a project for CGC," adds Thachuk. "We'd like to thank them for all their hard work and their commitment to making The Game of Life event a success."
For race details, to register for the event, or to make a donation, please visit http://www.events.runningroom.com/site/?raceId=6391.