YOUTH GAMES END WITH TEAM CANADA DOMINATING IN BEACH VOLLEYBALL AND WINNING RUGBY SILVER AT TRINBAGO2023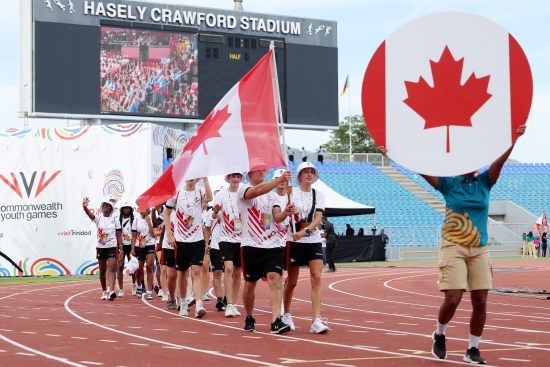 The closing ceremony takes place today in Tobago marking the end of the unique Commonwealth Youth Games, Trinbago2023. Canada's most notable performances for these Games included the beach volleyball teams dominating at the multi-sport event for youth, with a gold medal for both the women and men and Canada's women's rugby sevens team winning a silver medal at the Trinbago2023 Games.
In beach volleyball, Calinda Kok (Kitchener, ON) and Katarina Drozd (Toronto, ON) defeated Jasmine Rayner and Cameron Zayer of Australia to win gold. On the men's side, Oliver Toomes (Toronto, ON) and Andon Kiriakou (Ajax, ON) defeated Team England's Peter Soczewka and Rob Morgan to also be named Trinbago2023 champions. Following their competition, Calinda Kok spoke of the importance of the accomplishment.
"I am honoured to have competed in these Games alongside my partner Kiki and to have represented Canada, said Kitchener's own Calinda Kok. "Standing on the podium with a gold medal and hearing our national anthem play was definitely a moment I'll never forget."
In women's rugby sevens, Team Canada captured silver against Australia after defeating teams from Wales, Fiji, Trinidad and Tobago and Kenya to advance to the women's final. Coached by Darcy Paterson of North Vancouver, the silver winning team's players included: Elle Douglas (Saskatoon, SK), Lana Dueck (Abbotsford, BC), Skye Farish (Victoria, BC), Ava Ference (Duncan, BC), Charlotte Hilton (Fall River, NS), Kiki Idowu (North York, ON), Olivia Newsome (Calgary, AB), Anya Prokopich (Surrey, BC), Adia Elise Pye (Victoria, BC), Brooklyn Roddham (Langley, BC), Sarah Schonfeld (Ottawa, ON), Kennedi Stevenson (Glen Williams, ON), Zina Umeh (Calgary, AB).
A valuable springboard for the stars and leaders of tomorrow, the Commonwealth Youth Games are celebrated for contributing to the further development of youth sport throughout Canada and the Commonwealth. For Trinbago2023, Team Canada was led by an experienced Mission Staff including Team Leader Kelly Laframboise, Deputy Team Leader Chris Taylor and Chief Medical Officer Dr. Erika Persson.
"For many nations and territories within the Commonwealth, participating in the Commonwealth Youth Games is about preparing Canada's best young athletes for international events and opportunities in the future," says Kelly Laframboise, Team Leader, Team Canada, Trinbago2023. "All competing Canadian athletes will leave Trinidad and Tobago with high-quality event experience and confidence on the international stage, but also once-in-a-lifetime experiences meeting new people, and making friends that will last a lifetime."
The seventh Commonwealth Youth Games took place on the Islands of Trinidad and Tobago between August 4-11, 2023. 1000+ athletes and para-athletes between the ages of 14-18 participated in seven sports managed by 500+ officials. Trinidad and Tobago were initially awarded the 2021 Commonwealth Youth Games in June 2019, but the Games were postponed due to the impact of the pandemic on the international sport calendar.
For Trinbago 2023, Team Canada fielded a team of 74 athletes and staff, with athletes competing in Athletics, Beach Volleyball, Netball and Rugby 7s. For a complete list of Team Canada athletes and staff for Trinbago 2023 visit https://commonwealthsport.ca.
For more information on Trinbago2023 visit www.trinbago2023.com and for complete results visit https://results.trinbago2023.org.
ABOUT COMMONWEALTH SPORT CANADA
Commonwealth Sport Canada (CSC) is the franchise holder for the Commonwealth Games and the Commonwealth sport movement in Canada. CSC is an active, contributing member of the Canadian sport community and supports Canada's athletes to achieve excellence at Olympic, Paralympic Games, and world championships. The mission of CSC is to enrich the lives of youth across the Commonwealth and host the Commonwealth Games. For additional information go to: www.commonwealthsport.ca.
For more information, please contact:
Kelly Laframboise (she/her/elle) Manager, Programs & Operations Commonwealth Games Association of Canada
Email: kelly@commonwealthsport.ca
Tel: 613-244-6868 Ext: 2