Weightlifter Girard wins Canada's 3rd bronze of day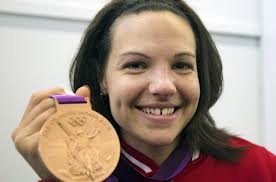 Christine Girard of White Rock, B.C., finished third in the women's 63 kg weightlifting division on Tuesday in London, picking up Canada's fourth bronze medal of the Olympics and third of the day.
Maiya Maneza of Kazakhstan took gold while setting an Olympic record of 245 total kilograms lifted, while Russia's Svetlana Tsarukaeva captured silver.
Girard, the reigning Commonwealth Games and Pan American Games champion originally from Rouyn-Noranda, Que., avenged her fourth place finish at the Beijing Olympics, where she missed out on a bronze medal by just three kilograms.
"It is very hard to describe how I feel," said Girard, who lifted a total weight of 236 kilograms. "Four years ago in Beijing I came fourth and since then I have spent the past four years training through injuries and various changes in my life to get to this moment."
Girard's result continued Canada's bronze medal streak on Day 4. Antoine Valois-Fortier of Quebec City was third in men's judo while divers Meaghan Benfeito and Roseline Filion won bronze in the women's 10-metre synchronized event.
CBC Sports