Uchida rebounds to capture silver in rhythmic all-around competition at 2018 Commonwealth Games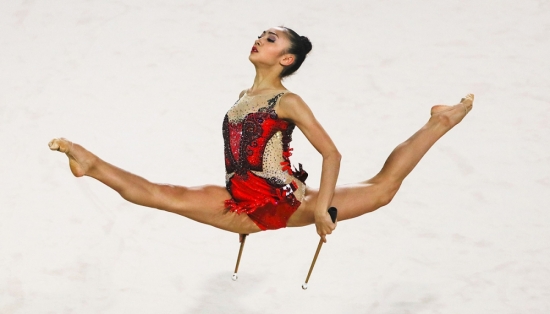 GOLD COAST, AUS (April 12, 2018) – Katherine Uchida and Sophie Crane, both of Toronto, clearly put the disappointment of Wednesday's team competition behind them today for the all-around competition as they both laid down four solid routines to capture the silver medal and place 9thoverall respectively.
Uchida was the first gymnast to take to the floor and performed a brilliant hoop routine to sit atop the standings with a score of 14.000. She continued to trade positions with Diamanto Evripidou of Cyprus throughout the afternoon, finally finishing in the silver position with a total score of 52.650. Evripidou won gold with a total score of 55.750. Kwan Dict Weng of Malaysia took the bronze with a score of 51.500.
"Coming into this competition I had no idea what to expect, and I worked so hard to get here. Yesterday when we had such a disappointing performance, it was such a letdown and I really felt like I needed to redeem myself today. There is so much satisfaction in knowing that I finally got to show what I can do, and to get a medal for Canada is just unreal," said Uchida who trains out of Jusco RG in Toronto and who is competing in her first multi-sport Games.
Uchida will have another chance to climb onto the podium tomorrow as she competes in the hoop and clubs finals – the two apparatus that she had the top scores in today.
Crane, who is competing in her first senior international competition, and also trains out of Jusco RG, also had a very solid day, finishing 9th with a total score of 47.975. She had the third highest score of the day with her clubs routine – an event she will also compete in tomorrow for the apparatus finals. She'll also compete in the hoop finals with Uchida.
"It was kind of disappointing not to be on the podium yesterday but I just tried to forget about that, and to focus on what I needed to do today, and I'm pretty happy with my overall performance today," said Crane who at 15 was one of the youngest competitors in the event.
The apparatus finals start Friday at 10am local, 8pm eastern. Follow the action live via www.dazn.com.
For complete results visit: https://results.gc2018.com/en/rhythmic-gymnastics/daily-schedule-date=2018-04-12.htm
Julie Forget
+61 0421 006 831 (from Canada)
0421 006 831 (in Australia)
Email: jforget@gymcan.org