Two Bronze Medals for Canada on the Final Day of the Commonwealth Games Track Cycling Event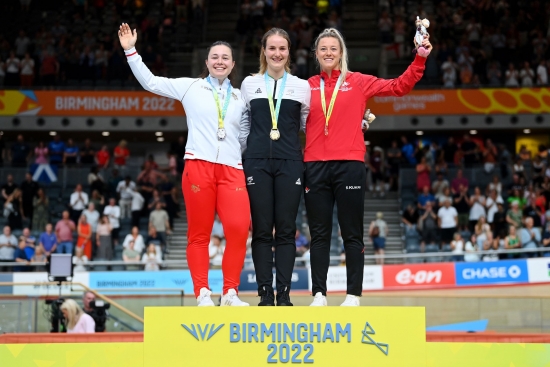 Aug. 01 2022 - Canada's Kelsey Mitchell of Sherwood Park, AB, won her fourth medal of the 2022 Commonwealth Games, this time a bronze in the Keirin final today
"I'm really happy, Keirin's always a tough one and Ellesse and Sophie raced so well; I'm happy to be on the podium," said Mitchell, after today's race. "The venue is incredible, and the atmosphere was amazing to race in. Obviously, my last games was Tokyo (where she won gold), so there weren't a lot of people, and now it's perfect. You get the heart rate up and fire on cylinders!"
Ellesse Andrews of New Zealand took gold, followed by England's Sophie Capewell (+.050) in silver position, and then Mitchell (+0.156).
Also today Maggie Coles-Lyster of Maple Ridge, BC, who had a fourth place finish yesterday in the 25km Points Race, won bronze in the women's 10k Scratch race.
"This is incredible – it's the first individual medal I've won and my first Commonwealth Games. So after the fourth yesterday, and to get on the podium today it was definitely a goal this whole Games...," said Coles-Lyster. "My desire for this medal was strong enough to keep pushing through it and I almost felt like I was going to pass out. But that's what you do out there when you want it bad enough."
Laura Kenny of England won the gold in this 25 km Points Race.
Canada won a total of five medals, four that included Mitchell, on the track at this Games.
Link to all of today's results: https://www.birmingham2022.com/results/day-by-day