Triple Medallist Named Canadian Flag Bearer for Youth Games Closing Ceremony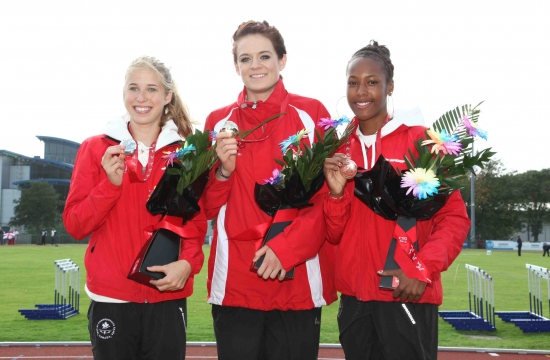 DOUGLAS, Isle of Man (September 12, 2011) – She's a rising star in Canadian track and field who captured three silver medals in her first major international competition.
Caroline MORIN-HOUDE (St-Jean-sur-Richelieu, QC), 17, delivered podium performances in the Women's 100m, 200m and 4X100m relay at the IV Commonwealth Youth Games on the Isle of Man. She has been honoured as Team Canada's flag bearer for tonight's Closing Ceremony.
"It's been an absolutely amazing competition," said Morin-Houde, who one day hopes to represent Canada at the senior Commonwealth Games and the Olympics. "My goals prior to the Games had been to qualify for the finals in the 100m and 200m, so to win medals in three events is incredible. I'm so happy…it's really hard to actually put into words."
The Commonwealth Youth Games wrap up with cultural events today and the Closing Ceremony tonight. The international multi-sport competition for athletes aged 14 to 18 brought together top competitors from 63 nations and territories from around the world.
Christine Laverty, Head Coach for the Canadian Athletics Team at the Youth Games, said Morin-Houde deserved a lot of credit for producing such outstanding results in extremely wet and windy conditions. "Despite the elements, Caroline won a medal for Canada - three times," added Laverty. "She is a team player, a wonderful individual and she fully deserves this honour."
Canada entered 56 top-level athletes in six sports – Athletics, Badminton, Boxing, Cycling, Men's Gymnastics and Rugby 7's – and produced a total of 16 medals, including 6 silver and 10 bronze.
"I'm pleased with Canada's overall performance at the Games," added Scott Stevenson, Director of Sport for Commonwealth Games Canada. "Through this event, we were able to provide some of our most promising summer athletes with a world-class sport experience. Best of all, with 16 medals they showed they can compete against top-level international competition. Things are looking really good for the future."
Beyond the competition itself, Stevenson added, the experience of an international multi-sport event is invaluable for these athletes, all of whom hope to one day win medals for Canada at senior Commonwealth Games, Olympics, and world championships.
"I've heard many of these athletes talk about how they'll never forget the experience they've had here on the Isle of Man," said Stevenson, who returns to Canada tomorrow with the rest of the Canadian team. "This kind of opportunity is essential in the development of our next generation of top senior athletes."
"And the coaches get just as much out of the experience as the athletes," noted Laverty, who was also a member of Team Canada at the 2008 Commonwealth Youth Games in Pune, India. "A multi-sport competition like this gives us a rare opportunity to share approaches and strategies with other Canadian coaches. I know that I'm leaving here with new ideas for training that I've picked up from my peers during these Games."
Other multiple medallists for Team Canada included:
Curtis GRAVES (Saskatoon, SK), 18, captured a total of four medals in Men's Gymnastics including two silver medals (Team Competition and the Horizontal Bar) and two bronze (Rings and Parallel Bars);
Shaina HARRISON (Aurora, ON), 17, won silver in the Women's 4x100m relay and a bronze in the Women's 100m; and
Kal NEMIER (North Vancouver, BC), 18, brings home a silver medal in the Men's Gymnastics Team competition and a bronze in the Horizontal Bars.
For complete details on Canada's performance at the IV Commonwealth Youth Games, visit www.commonwealthgames.ca/games/isleofman.
About Commonwealth Games Canada
Commonwealth Games Canada (CGC) is the international franchise holder for the Commonwealth Games and Commonwealth movement in Canada, and an active, contributing member of the Canadian sport community. The mission of Commonwealth Games Canada is to strengthen sport within Canada and throughout the Commonwealth, by participating in the Commonwealth Games and by using sport as a development tool.
- 30 -
Media Contact:
Derek Johnston
Communications
Commonwealth Games Canada
(613) 794-1876
media@commonwealthgames.ca