Team Canada Flag Bearer Announced for Commonwealth Youth Games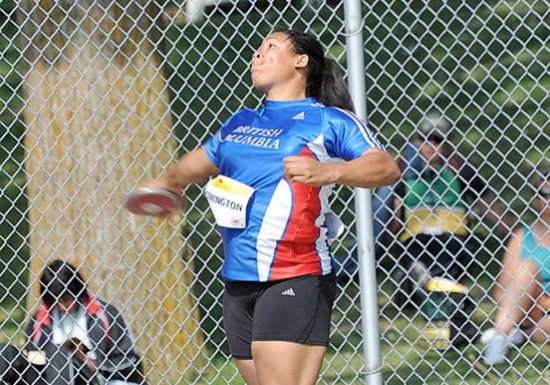 FOR IMMEDIATE RELEASE
DOUGLAS, Isle of Man (September 6, 2011) – Commonwealth Games Canada (CGC) today announced that 16-year-old Asianna Covington (Surrey, BC) has been selected as Team Canada's Flag Bearer at the IV Commonwealth Youth Games on the Isle of Man.
This international multi-sport competition for athletes aged 14 to 18 will bring together top competitors from 69 nations around the world.
Covington, who trains out of the Kajaks Track & Field Club in Richmond, BC, is Canada's top-ranked junior female in both hammer and discus. At this year's Legion Canadian Youth Championships in Ottawa, she won both competitions and set a championship record in the discus. She has won the BC High School Championship (Hammer, Discus, Shot Put) the last three years in a row.
"I'm so honoured to be chosen as the Flag Bearer and I can't wait to walk into that stadium on Thursday," says Covington, who arrived on the Isle of Man yesterday along with the rest of her Team Canada teammates. "This is my first international competition and my first time travelling outside North America, so you could say I'm pretty excited!"
While Covington's athletic credentials are impressive, CGC's Director of Sport, Scott Stevenson, says it's her attitude, work ethic and leadership skills that make her such a strong selection as Team Canada Flag Bearer.
"Asianna is an Honour Roll student, led charity work for young victims of Hurricane Katrina, and contributes volunteer time to read to younger students at her former elementary school and to make sandwiches for the homeless in downtown Vancouver," adds Stevenson, who will oversee all aspects of Team Canada's operation through the competition. "She's got a remarkable resume for a 16-year-old and we're so pleased that she's agreed to carry the flag into the Opening Ceremony on Thursday."
The Commonwealth Youth Games Opening Ceremony will be streamed live by the BBC on Thursday, starting at 2:15 p.m. Eastern Time (www.bbc.co.uk).
Canada will compete in six sports at the Commonwealth Youth Games: Athletics, Badminton, Boxing, Cycling, Men's Gymnastics, and Rugby 7's. The competition runs from Friday, September 9th through Sunday, September 11th.
For a complete list of athletes and coaches, visit: http://www.commonwealthgames.ca/games/isleofman.
About Commonwealth Games Canada
Commonwealth Games Canada (CGC) is the international franchise holder for the Commonwealth Games and Commonwealth movement in Canada, and an active, contributing member of the Canadian sport community. The mission of Commonwealth Games Canada is to strengthen sport within Canada and throughout the Commonwealth, by participating in the Commonwealth Games and by using sport as a development tool.
- 30 -
Media Contact:
Derek Johnston
Communications
Commonwealth Games Canada
(in Isle of Man) 011 44 7624 425 364
media@commonwealthgames.ca