Taylor Ruck Strikes Gold at Commonwealth Games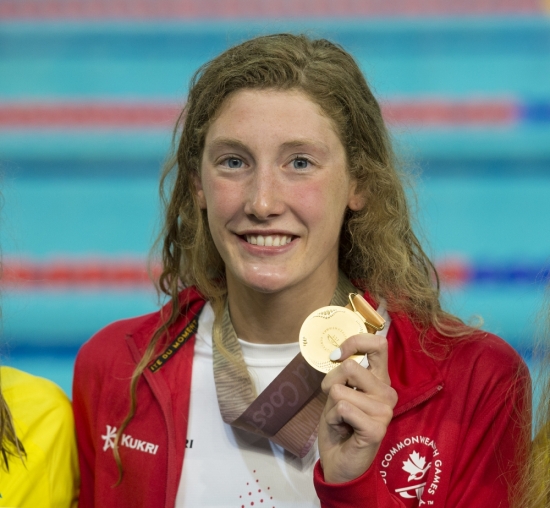 GOLD COAST, Australia – Canada's Taylor Ruck didn't know she'd won the gold medal in the women's 200-m freestyle in swimming action Thursday at the Commonwealth Games.
The 17-year-old from the High Performance Centre – Ontario lowered her Canadian record and the Commonwealth record to 1:54.81. She edged Ariarne Titmus of Australia, second in 1:54.85 while her compatriot Emma McKeon was third in 1:56.26. Penny Oleksiak of Toronto was seventh.
''I saw Ariarne coming up and I thought she'd won when the race was over,'' said Ruck. ''Then I looked up at the board… I don't think I've processed it yet. In the last 50 I knew I had to keep my head down and try and not breathe. I knew I was being chased.''
The victory launched a three-medal opening day for Canadian swimmers. Ruck also anchored Canada to silver in the 4×100-m freestyle relay and Sarah Mehain of Vernon, B.C., took silver in the women's Para swimming 50-m butterfly.
''Putting down performances like this is really important to see where I am at this point going towards the next Olympics,'' said Ruck. ''I'm really excited with the process.''
Canada's High Performance Director John Atkinson said Ruck raced to win.
''We knew the Australian was going to have a strong finish,'' he said. ''Taylor managed to keep her stroke rate up at the end of the race. To drop her personal best from 1:56 to 1:54 is a tremendous effort and shows what she is capable of.''
In the women's 4×100-m freestyle relay, Australia took the gold in a world record 3:30.05. The Canadians followed in 3:33.92 with Alexia Zevnik of Montreal leading off in a personal best 53.95, followed by Ruck's HPC-ONT teammate Kayla Sanchez, Oleksiak and Ruck. Ruck had the fastest relay split with a 51.82, but couldn't catch Cate Campbell, who went 51 flat. England was third in 3:38.40.
''The relay was amazing and it's been a really good night for Canada,'' said Oleksiak, Canada's quadruple medallist at the Rio 2016 Olympic Games.
''It was a special race because I got to share it with my best friends," Ruck added.
In Para-swimming, Sarah Mehain of Vernon, B.C., took silver in the women's 50-m butterfly in the S7 disability category.
''It was a really solid race for me,'' said Mehain. ''I've made some adjustments to my stroke and it seems to be working out really good.''
Tess Routliffe of Caledon, Ont., was third in the two-medal event.
Other Canadian finalists in women's competition were Erika Seltenreich-Hodgson of Ottawa/High Performance Centre – Vancouver, Sarah Darcel of Victoria and Mary-Sophie Harvey of Trois-Rivieres, Que., who finished fourth, fifth and eighth in the 400-m individual medley.
Other Canadian finalists in men's competition were: Jeremy Bagshaw of Victoria (fifth in the 400-m freestyle) and Eli Wall of Ottawa (eighth in the 200-m breaststroke).
''I'm very happy,'' said Wall. ''It was my second best time ever in my first international final so I really have nothing to complain about.''
In semifinals, three Canadians qualified for the women's 100-m butterfly final: Rebecca Smith of Red Deer, Alta., qualified second in a personal best 57.77, Oleksiak sixth in 58.29 and Mabel Zavaros of Oakville, Ont., eighth in a personal best 58.62.
It's the first senior international final for Smith and Zavaros.
''It was really exciting for me in front of this crowd,'' Zavaros said. ''We really fed off the energy and it brought us to a whole other level.''
Markus Thormeyer of Delta, B.C., qualified second for the men's 100-m backstroke final, winning his heat in a personal best 53.86. Faith Knelson of Victoria qualified seventh for the women's 50-m breaststroke final in 31.22.
''I came to this meet to fight, to compete and to prove myself at the international level,'' said Thormeyer.
Atkinson was satisfied with his squad's work on Day One.
''We started with some really solid performances in the prelims to get 10 swimmers to the finals,'' he said. ''And the encouraging efforts continued tonight led by Taylor's tremendous performance in the 200 freestyle. It shows she's really on.''
Competition continues through Tuesday. Friday's heats begin at 10:30 a.m. local time (8:30 p.m. ET Thursday), with finals at 7:30 p.m. local time (5:30 a.m. ET). The Games are being streamed live on the DAZN platform, which also features on-demand content. CBC, in partnership with DAZN, will be featuring action from the pool during its weekend Road to the Olympic Games program.
Full results: Swimming | Daily Schedule (5 Apr) – Gold Coast 2018 Commonwealth Games