Strong Canadian artistic gymnastics team aiming for multiple podiums at Gold Coast Games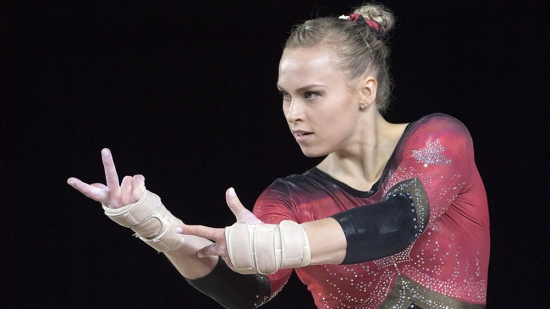 GOLD COAST, AUS (April 3, 2018) – The Canadian men's and women's artistic gymnastics teams are aiming for the podium in multiple events at the 2018 Commonwealth Games on the Gold Coast, AUS, which open Wednesday, but perhaps none more than the coveted team podium which the women's team narrowly missed out on at the 2014 Games.
"That was not our greatest competition", said Ellie Black of Halifax, NS, one of two team members that was part of the 2014 contingent (the other being Isabela Onyshko of Brandon, MB), that finished fourth behind Wales at those Games. "Here, the main goal for us is to really come together as a team and hopefully do better than last time."
With the women's team being almost a mirror image of the 2016 Olympic team – the only difference being the addition of Jade Chrobok of Toronto, ON who replaced injured Rose Woo of Brossard, QC just before the Games, they stand a good chance of giving England and Australia a run for the top of the podium.
Black, who is the reigning World Championships silver medallist in the all-around, is a clear favourite to top the podium in that event with the withdrawal of top British challengers Claudia Fragapane and Amy Tinkler to injury in the last few months. Black will also be looking to defend her beam title from the Games, and perhaps medal on vault as well.
Shallon Olsen of Surrey, BC is also a stand-out favourite to top the podium on vault after qualifying for the finals at the 2017 World Championships and Olympic Games, while fellow Rio teammates Brittany Rogers of Calgary, AB will look to shine on bars and vault, and Onyshko will be sure to impress in the all-around and on beam. Chrobok, who recently finished 4th in the all-around at a World Cup competition in Birmingham, UK, and who is attending her first multi-sport competition, will be a strong contributor across several apparatus towards the team title, while also aiming for finals in several events.
The men's team is anchored by Scott Morgan of Vancouver, BC, who was Canada's second-most decorated athlete at the 2014 Commonwealth Games where he captured four medals, including a pair of golds. He'll be debuting a new floor routine at these Games, where he'll go up against reigning Olympic champion Max Whitlock of England for a spot on the podium, and will look to defend his Commonwealth titles on rings and vault.
Zach Clay of Coquitlam, BC is the other returning member of the bronze medal winning team from Glasgow – with a clean routine on his specialty of pommel horse, he stands a solid chance to take that title.
Rene Cournoyer of Repentigny, QC will be the lone contender for the all-around title, while Jackson Payne of Calgary, AB will be looking to advance to finals and hopefully medal on his specialties – pommel horse, parallel bars, and high bar. Cory Paterson of Montreal, QC stands a strong chance of medaling on high bar, and together with the rest of the team, will be looking to improve on their bronze medal from four years ago.
"The overall goal for this team would be to place second and beat Scotland," said Tony Smith, national team director for men's artistic gymnastics at Gymnastics Canada. "I think in the grand scheme of things, for preparation leading into World Championships, being able to beat half of the Great Britain team - who are here competing for Scotland - will reverberate more throughout the gymnastics community and let people know that Canada is coming on strong and that we're a better team than we have been for the last couple of years. I think that will go further towards qualifying towards the Olympics than any individual result."
The men's team competes in subdivision three of the team finals and individual qualifying rounds on Thursday, April 5, while the women will take to the floor as part of subdivision three on Friday, April 6.
For the complete schedule and results, visit: https://results.gc2018.com/en/artistic-gymnastics/daily-schedule.htm
Julie Forget
+61 421 006 831