Returning gold medallists and first-time Commonwealth Games participants ready to compete in Gold Coast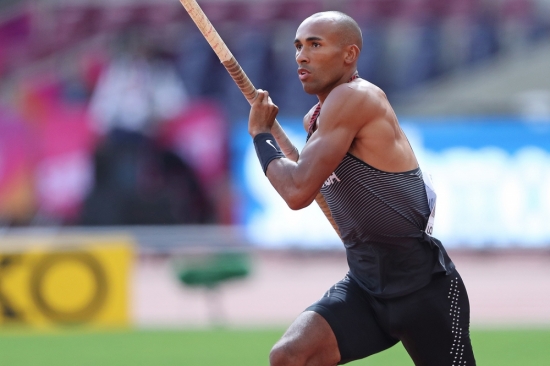 Frizell and Dupont named Team Captains
Gold Coast, Australia – After nearly two weeks on the Gold Coast, and a gruelling training camp in the hot, humid conditions now in the rear-view mirror, 46 of Canada's top track and field athletes are ready to make their mark in the Gold Coast at the 2018 Commonwealth Games. The team's race walkers – Evan Dunfee and Benjamin Thorne – kick-off the Canadian schedule on Sunday, April 8, at 7 a.m. (local time) at Currumbin Beachfront, then Canada's focus will shift to Carrara Stadium where Adam Keenan (hammer throw) and Mohammed Ahmed (5000-metres) will compete in their respective finals.
"When you look at our team, especially the young athletes who are participating in their first Commonwealth Games, we have an opportunity to do well," said head coach Glenroy Gilbert. "Our team is fit, focussed and prepared for the Games. We are here to deliver high performance results – new seasonal and personal bests, increase pre-event rankings and to win medals. That's why we are here. We had a great camp, and now it's time to take that momentum to the stadium and perform."
The Canadian contingent in Gold Coast features 26 men (including one guide) and 20 women. Of the 19 who have competed in a Commonwealth Games, 15 have stood on the podium capturing four gold, three silver and eight bronze medals. Together, more than 25 Top 8 performances have been recorded, and they look to add to that total when the meet gets underway on Sunday.
A gold medallist in Glasgow in 2014, Damian Warner is ready to take the momentum from the team's training camp and show the world that he's on top of his game. "I want to defend my title. The field at these Games is going to be stronger than it was in 2014. I won with just under 8,300 points, but I wouldn't be surprised to see five guys over that score. I'm looking forward to the challenge; it's going to be a good competition."
The Commonwealth Games have been "pretty magical" for hammer thrower Sultana Frizell. She's stood on top of the podium twice, walked into the stadium as Canada's flag bearer at the Closing Ceremonies and now she's been named Team Captain of this young squad. "Obviously, I'm honoured; it's an amazing opportunity," said Frizell. Looking to capture her third consecutive gold medal, the best advice she can give her young teammates is to "go out and attack what you are doing. The moment you have doubt and go 'oh, my God' that's where it's won or lost."
Frizell's co- Team Captain, wheelchair racer Alexandre Dupont, added "it's a great team with a lot of talent and I'm honoured to be named Team Captain. After a tough training camp, we are in really good shape and we expect to do well. I am aiming for the podium in the T54 1500-metres and marathon." His advice to those who have yet to experience a multi-sport Games, "do your thing and don't think about it too much. Do whatever you can to perform your best and go for it."
Canada's young track and field stars have been on the rise over the past few years. When asked who might step on the podium at the 2018 Commonwealth Games, coach Gilbert said "there are a lot of athletes who could surprise us. Nina Schultz, our young combined events athlete, could certainly medal here. Brittany Crew has had a good camp; she's ready to perform in the shot. The men's 4x100-metre relay team has an outside chance, even without a guy like Andre De Grasse. His absence, gives some of the younger guys the opportunity to run in an international competition and do well."
The Commonwealth Games serve as a vital component of an athlete's development. "We are not looking at this event like it's a development meet. It's a competition; it's a stepping-stone to Doha (2019 IAAF World Championships) and Tokyo 2020," said Gilbert. "It helped a lot heading into 2016 having participated in the Commonwealth Games," added Warner. "There are a lot of young athletes on this team and this experience will help them tremendously."
Team Canada by the numbers:
26 men (number includes one guide), 20 women


Nine sprinters, eight jumpers, six middle/long distance runners, six decathletes/heptathletes, four wheelchair racers (all will compete in the 1500m and marathon), two race walkers and one hurdler

47 and 19 – the age of the oldest (Diane Roy) and youngest (Nina Schultz) Canadian track and field athlete taking part in the Games


As of today, one athlete is under the age of 20, 12 are between the age of 20-24, 24 athletes fall in the 25-29 age category, six are between 30-34, two are aged 35-39 and one is over the age of 40

19 have competed in a Commonwealth Games, while 26 will be making their first appearance in Gold Coast
15 Commonwealth Games medals have been won by this group (four gold, three silver and eight bronze)
25 individual Top 8 performances have been recorded at a Commonwealth Games – the men's 4x100-metre relay team finished eighth in 2010 (Effah) and 2014 (Brown, Rodney and Smellie), while the women's 4x100-metre relay team finished one place off the podium in 2014 (Emmanuel and Whyte)
32 – the number of events that Canada will compete in at the 2018 Commonwealth Games
For more on Team Canada and the Gold Coast 2018 Commonwealth Games, visit www.athletics.ca/gc2018 or www.commonwealthgames.ca.
Amanda Nigh
+61 0478 732 154