Quarter-Final Time - Commonwealth Games Beach Tournament Heating Up in Australia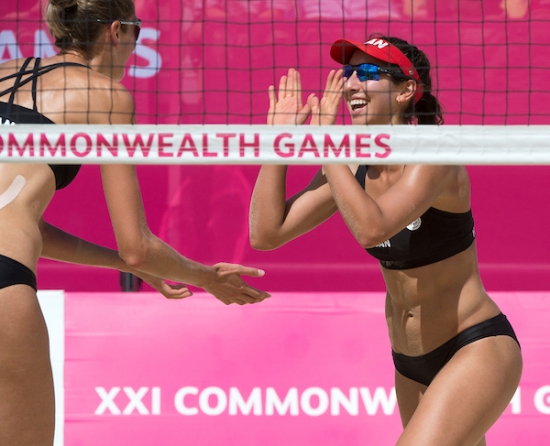 The Commonwealth Games inaugural beach volleyball tournament preliminary round is over, and the competition will heat up on Tuesday with the beginning of the knockout stage at Coolangatta Beach in Australia's Gold Coast, Queensland.
Pool play wrapped up on Monday, with both of Canada's teams going undefeated so far to win their pools. On Monday, Sam Pedlow and Sam Schachter defeated Scotland 2-0, and women's team of Melissa Humana-Paredes and Sarah Pavan beat England 2-0.
Get full results, statistics, schedules and more on the official Gold Coast 2018 website. In Canada, the Commonwealth Games is available for viewing on DAZN.
Each of the men's and women's events included 12 teams in three pools of four for the first phase. The top two of each pool and the best two of the third-ranked teams advance to Tuesday's quarterfinals, which are followed by semifinals on April 11 and the medals matches on April 12.
Note that the Gold Coast is 15 hours ahead of Eastern time.
Men's Quarterfinals, all times local :
11:00 Apostolou/Chrysostomou (CYP) v Pedlow/Schachter (CAN)
12:00 Brodzki/Cook (SCO) v Gregory/Sheaf (ENG)
17:00 O'Dea/O'Dea (NZL) v Stewart/Williams (TTO)
19:30 McHugh/Schumann (AUS) v Kamara/Lombi (SLE)
Women's Quarterfinals, all times local :
15:00 Matauatu/Pata (VAN) v Grimson/Palmer (ENG)
16:00 Artacho del Solar/Clancy (AUS) v Mutatsimpundu/Nzayisenga (RWA)
20:30 Polley/Wills (NZL) v Angelopoulou/Konstantinou (CYP)
21:30 Beattie/Coutts (SCO) v Humana-Paredes/Pavan (CAN)
Women's Team
Melissa Humana-Paredes, Toronto, Ontario
Sarah Pavan, Kitchener, Ontario
Coaching staff on site: Steve Anderson
Men's Team
Sam Schachter, Richmond Hill, Ontario
Sam Pedlow, Barrie, Ontario
Coaching staff on site: Ahren Cadieux
Photo: Dan Galbraith, Commonwealth Games Canada
For further information:
Commonwealth Games Canada
Sylvie Bigras
Communications Chief – Team Canada 2018
AUS #: +61 042 2445960
Volleyball Canada
Jackie Skender
Director, Communications
613.794.7676