Next Step 2011 Promotes Global Sport for Development Partnerships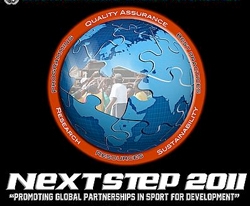 Partnerships within the Sport for Development field are evolving beyond traditional donor/recipient arrangements to an increasingly efficient model based on equality, respect and co-operation from which everyone can benefit. That was the central theme of the 4th Next Step Conference, held Nov. 7-12 in Port of Spain, Trinidad & Tobago and hosted by Commonwealth Games Canada partner TTASPE, The Trinidad & Tobago Alliance for Sport and Physical Education.
The conference brought together 114 delegates representing government agencies, non-governmental organizations (NGOs), universities and Sport for Development practitioners from 26 countries with the goal of promoting global partnerships in Sport for Development. Along with sharing examples of best practices and models of effective collaboration through breakout sessions with organizations such as CGC, speakers and participants addressed some of the obstacles they continue to face. These include a lack of co-ordination, an inability to access resources, the prevalence of gender-based violence, a shortage of necessary training and skills, and the lack of regional and global co-ordination in what is a proliferating field.
In answer to this, the conference recommended that the United Nations Office on Sport for Development and Peace encourage governments, NGOs and related organizations to adopt guidelines for addressing gender-based violence within the Sport for Development sector within an agreed standards framework; and to develop and share resources and tools to use sport to address gender-based violence. Among the other recommendations to come out of the conference was that the International Platform on Sport for Development Platform (sportanddev.org), the U.N. Office on Sport for Development and Peace and partner organizations monitor regional, gender and age representation on all Boards and Committees and act to address any inequities.
The conference also played host to workshops on the Kicking AIDS Out Curriculum Review, National Para-sport Organizational Development and the Empowerment of Women through Football, as well as an International Community Coaching Education Systems (ICES) seminar — all of which represented the continuation of an ongoing collaborative process within the sport for development community.
"I would like to congratulate our partner, TTASPE, on an excellent job in organizing the first Next Step Conference hosted by an NGO and held in the Caribbean," says Carla Thachuk, Commonwealth Games Canada's Director of International Programs. "The conference was a tremendous success, and is unique in that it brings together academics and practitioners to build evidence to support the important work that's being done in the Sport for Development field."
As TTASPE co-founder Mark Mungal told the International Platform on Sport for Development, "Next Step 2011 was not merely an event in the sport and development (S&D) calendar. It represented an ongoing and necessary part of the growth and development of this emerging field. Holding meaningful dialogue among leaders of the S&D fraternity is critical to that process. More importantly, Next Step 2011 generated key outcomes and action points."
A review and progress report on all the 2011 recommendations will be presented at Next Step 2013. This year's conference also requested the production of three key resources by the U.N. Office on Sport for Development and Peace prior to Next Step 2013: an independently undertaken review of the evidence for the effectiveness of development through sport programmes in addressing personal and social issues; clear, concise and accessible documentation of effective practices that can be used by Sport for Development organizations; and an evidence-based lobbying and advocacy toolkit and training to assist organizations in fundraising and marketing.
-30-