Newman wins GOLD in record-setting fashion; Ahmed, Schultz and Crew land on the podium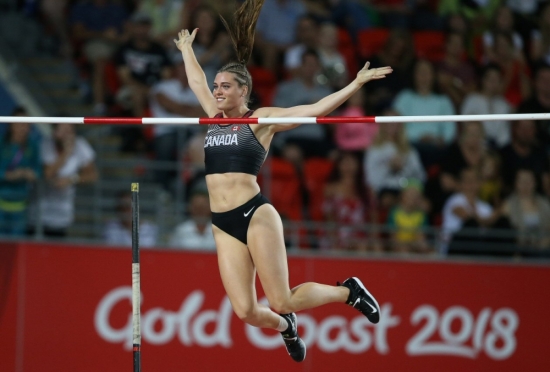 Friday the 13th wasn't that scary after all, producing six Top 5 finishes, including one Gold, two Silver and one Bronze, at Carrara Stadium on day six of athletics competition at the Gold Coast 2018 Commonwealth Games.
Taking pole vault, and the Canadian record, to new heights every time she steps foot in a stadium, Alysha Newman entered the women's pole vault final at 4.30 metres. After setting a new Games record with a vault of 4.65 metres, and the Gold medal on the line, Newman would pass on her final attempt at 4.70 metres. With the crowd on its feet, she cleared 4.75 metres (matching her personal best) on her first attempt winning Gold in record-setting style. Newman's teammate Anicka Newell, in her first Commonwealth Games appearance, settled for seventh place, with a best clearance of 4.30 metres.
Heading into day two of the women's heptathlon, Nina Schultz found herself comfortably in the Silver medal position with 3,639 points. The 19-year old picked-up where she left off with a personal best 6.19 metres in the long jump, a throw of 43.11 metres in the javelin and crossed the finish line in 2:17.40 in the 800-metres (personal best). When the final scores were tallied, Schultz found herself in the Silver-medal position with 6,133 points (personal best), her first medal at a major international Games.
Angela Whyte – competing in her fifth Commonwealth Games, but first in the women's heptathlon –recorded personal bests in the high jump (1.72 metres) and javelin throw (44.58 metres) en route to a fifth-place finish with 5,898 points. Niki Oudenaarden, competing in her first Commonwealth Games, finished the competition in sixth-place with 5,878 points.
After landing on the podium with a Silver medal in the men's 5,000-metres on Sunday night, Mohammed Ahmed looked to keep the momentum going when he entered Carrara Stadium for the men's 10,000-metres. The Canadian record holder found himself in the lead with four laps to go, battling to the bitter end with Uganda's Joshua Kiprui Cheptegei. Ahmed crossed the finish line second in a time of 27:20.56, ending the night with another Silver medal wrapped round his neck.
Progressing and climbing the ranks as a young shot putter, Canada's Brittany Crew stepped inside the shot put circle and launched a throw of 18.32 metres on her sixth and final attempt of the night. That throw bumped Crew into the Bronze-medal position. Taryn Suttie registered a best throw of 16.92 metres, settling for eighth place.
Canada's top-ranked steeplechaser, Matt Hughes, lined-up for the men's 3,000-metre steeplechase final. Battling the Kenyans over the last two laps sitting in third place, he struggled on the final water jump making way for Amos Kirui. In a desperate attempt for that last spot on the podium, Hughes launched himself across the finish line, but would come up short missing the podium by 0.09 seconds.
The men's 4x100-metre relay team, consisting of Sam Effah, Bismark Boateng, Oluwasegun Makinde and Gavin Smellie, was also in action today at Carrara Stadium. In the middle of the pack following the first two legs, a failed hand-off between Boateng and Makinde ended Canada's hopes of making it to Saturday's final.
Here's what the athletes had to say:
Alysha Newman (Gold) following the women's pole vault final
On the audience
"I can't tell you how I felt when the audience was clapping. I could feel it from my toes all the way to my face. I didn't want to let them down. That clutch third attempt – I always take that third attempt, I love my third attempt – but I didn't need it tonight."
Confidence to make a play for Gold
"These are big poles and I'm not used to being on them. In my mind I was like 'I'm ready for this, clearly I need the next pole to make this height. You either do it or you don't'. I wasn't going to settle for silver."
What is she capable of
"It's a stepping stone. I have two years until the Olympics; it's my first Gold internationally other than Pan Am Juniors. I am happy to finally get my senior medal. I'm stoked."
Nina Schultz (Silver) following the women's heptathlon
Summing up the last two days
"It was tough. I has some personal bests, but I also had a couple terrible results; it was a rollercoaster. I'm the youngest on the Canadian team, so I just wanted to come in here and have fun. On the first day, I wasn't even nervous; I was just enjoying myself out there. I'm really happy I was able to experience this with my teammates."
Personal best setting the tone for her future
"It's my first senior championships; it's great to get this Games experience under my belt. Coming in, I told myself 'no matter what happens here, it' going to be a really good experience to learn from for the upcoming Olympic Games."
Mohammed Ahmed (Silver) following the men's 10,000-metres final
Coming down the stretch
"I was trying to be ferocious. I told myself two things – be fearless and feisty. That fury over the last lap, I tried everything I could. He's (Cheptegei) just a really good runner. I think I was there; I stayed composed and I fought every time he made a move. I think I need to work with some sprinters. I'm moving in the right direction; I just have to keep getting stronger and build my confidence."
On two Silver medals
"I wanted gold, I came here for two golds. I fought really hard. I was more disappointed in the 5,000-metres. I covered the move but I didn't make a move of my own. Today, I tried to make winning moves and decisions."
Brittany Crew (Bronze) following the women's shot put final
Best for last
"I had to work hard for that one. I struggled a little bit in the first couple of rounds trying the shake the nerves off; the crowd is pretty vibrant. That was not the plan."
The bronze medal
"I'm happy with the Bronze medal, but not happy with the distance. I was expecting a personal best today. I'm happy to get on the podium, it's my first senior international medal and I couldn't be happier."
Matthew Hughes (4th place) following the men's 3000-metre steeplechase final
Thoughts going through his mind after the gutsy effort
"I have been to enough of these, it's not about finishing fourth or fifth. I really wanted to medal; I should have medalled. I honestly could not have run any faster. During the last six months of training I was literally thinking about this day and I was ready for it, I did everything possible."
On the last lap of the race
"I just thought, 'get over the last hurdle and sprint to the end'. I was really sprinting but obviously not fast enough. I've never thrown myself across the line in my entire life. It was instinct. I tried to get my chest over the line before his, but I knew."
Angela Whyte (5th place) following the women's heptathlon
Does it get any easier
"Definitely not at this level on this stage. I'm so happy that I have been able to represent Canada at multiple Commonwealth Games, first in the hurdles and now in the heptathlon. I'm been so blessed to represent Canada and to share this experience with these two girls (Nina Schultz and Niki Oudenaarden)."
Top 8 finishes
Alexandre Dupont, T54 1500m – Gold
Christabel Nettey, long jump – Gold
Alysha Newman, pole vault – Gold
Mohammed Ahmed, 5,000m – Silver
Mohammed Ahmed, 10,000m – Silver
Shawnacy Barber, pole vault – Silver
Aaron Brown, 200m – Silver
Pierce LePage, decathlon – Silver
Nina Schultz, heptathlon – Silver
Brittany Crew, shot put – Bronze
Django Lovett, high jump – Bronze
Tim Nedow, shot put – Bronze
Diane Roy, T54 1500m – Bronze
Sultana Frizell, hammer throw – 4th
Elizabeth Gleadle, javelin throw – 4th
Matt Hughes, 3,000m steeplechase – 4th
Adam Keenan, hammer throw – 4th
Benjamin Thorne, 20km race walk – 4th
Crystal Emmanuel, 200m – 5th
Sage Watson, 400mH – 5th
Natasha Wodak, 10,000 metres – 5th
Angela Whyte, heptathlon – 5th
David Bambrick, F38 shot put – 6th
Michael Mason, high jump – 6th
Niki Oudenaarden, heptathlon – 6th
Deryk Theodore, pole vault – 6th
Genevieve Lalonde, 3,000m steeplechase – 7th
Anicka Newell, pole vault – 7th
Tristan Smyth, T54 1500 – 7th
Kevin Strybosch, F38 shot put – 7th
Evan Dunfee, 20km wace walk – 8th
Taryn Suttie, shot put – 8th
For more on Team Canada and the Gold Coast 2018 Commonwealth Games, visit www.athletics.ca/gc2018.