Nettey GOLDEN in Gold Coast; Barber and Brown earn SILVER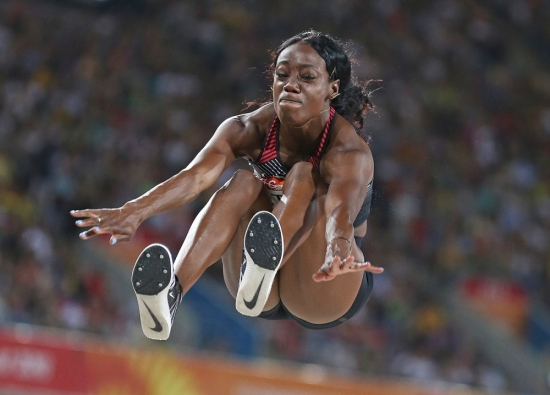 Five finals, producing five Top 5 finishes – including one Gold and two Silver medals – on day five of the Gold Coast 2018 Commonwealth Games made for one of the most exciting days at Carrara Stadium thus far for Team Canada.
Talk about peaking at the right time, after qualifying for the final on her first and only jump on Wednesday afternoon, Christabel Nettey soared to a Gold medal by registering a mark of 6.84 metres on her first jump of the competition. This marks the first time Nettey has found herself on the podium at a major Games since the 2015 Pan American Games.
Shawnacy Barber, the Canadian record holder in men's pole vault, entered the competition at 5.35 metres. Feeling confident in front of a loud and energetic crowd, Barber skipped a few heights along the way en route to a jump off with Australia's Kurtis Marschall for the Gold medal. Barber would come up short missing at 5.70 metres on his final attempt, walking away with the Silver medal – one place higher on the podium than in 2014. In his first Commonwealth Games appearance, Deryk Theodore, settled for sixth place, with a best clearance of 5.35 metres.
In the most highly contested event in athletics with 70 entries, Aaron Brown knew he had to come out of the blocks on fire to land on the podium. With a clean start, he came around the corner in the middle of the pack, picking up ground down the stretch. With England's Zharnel Hughes and Jereem Richards of Trinidad and Tobago fighting it out for the top spot, Brown would cross the finish line third, only to find out that Hughes had been disqualified before completing their celebratory lap around the stadium. Brown would move one step up on the podium to the Silver medal position and will now shift his focus to the men's 4 x 100-metre relay.
Execute. That's what Crystal Emmanuel wanted to do when she entered the stadium tonight for the women's 200-metres final. She did just that crossing the finish line fifth in a time of 22.70 seconds. After making the final at last year's World Championships and here in the Gold Coast, she's ready to make a statement en route to Tokyo 2020.
Out of Lane 8 in the women's 400-metre hurdles final, Sage Watson looked to kick-off her 2018 outdoor season with a clean race and solid time. In tough with just over 100-metres to go, she gave it her all crossing the finish line fifth in a time of 55.55 seconds.
Walking into Carrara Stadium, Niki Oudenaarden, Nina Schultz and Angela Whyte, looked to follow in Pierce LePage's footsteps and land on the podium in the women's heptathlon. Schultz, the youngest on the Canadian athletics team at only 19 years of age, found herself in the top three all day. She'd register a time of 13.47 seconds in the 100-metre hurdles, set a new personal best in high jump (1.84 metres), throw 12.13 metres in the shot put and record a season's best time of 25.02 seconds in the 200-metres. Schultz would finish day one of the heptathlon in second place with 3,639 points.
Whyte, with the second fastest time in the 100-metre hurdles (13.35 seconds) and a personal best in the high jump (1.72 metres), finds herself sitting in seventh place with 3,432 points with three events to go. Meanwhile Oudenaarden wrapped-up day one with 3,400 points, in eighth place after registering the best mark of the competition in the shot put (13.85 metres).
Sprinter George Quarcoo, alongside guide Adam Johnson, lined up for the men's T12 (visually impaired) 100-metre heats. Out of the blocks and down the stretch, Quarcoo found himself fighting for one of the top spots in his heat, he took an unfortunate tumble near the finish line coming in fourth with a time of 14.03 seconds.
Shot putters Brittany Crew and Taryn Suttie were also in action today at Carrara Stadium, both qualifying for the women's shot put final. Crew would deliver a throw of 17.50 metres on her first attempt, while Suttie registered a mark of 16.86 metres. The final will take place tomorrow at 8:40 p.m. local time (6:40 a.m. ET).
Here's what the athletes had to say:
Christabel Nettey (Gold) following the women's long jump final
On the first jump
"I wanted to put a big one out there with the first jump which I did. I was hoping to build off that and get some bigger jumps."
Being back in form
"It's been a couple tough years, I'm just going back to my roots, back to my old program. Really working on my speed and power."
Crystal Emmanuel (5th place) following the women's 200-metre final
On tonight's race
"To make the final and race against these lovely ladies, I've very competitive. It was a good experience to see where I'm at and what I have to work on."
On her execution
"I was very confident in myself and my execution. My coach and I worked really had to get me out here and to race well."
Shawnacy Barber (Silver) following the men's pole vault final
Silver medal performance
"All things lead to gold in four years. That's what it's looking like. It was not the performance we all wanted, but I think all things considered I'm happy with it. I had a lot of fun vaulting with these guys."
Representing Canada
"It's great to go out and represent your country. Any time you have a chance to put on a show for people, you're going to take steps in the right direction. I look forward to finding that World Champion again."
Aaron Brown (Silver) following the men's 200-metre final
On winning Silver
"I fought hard, I tightened up a little bit down the home straight, I'm not as fit as I would usually be in the summer. Honestly to come out here and get a medal, I'm really proud of myself."
Sage Watson (5th place) following the women's 400-metre hurdles final
On tonight's 5th-place finish
"I just followed my race plan and went for it but came up a little short tonight. I'm disappointed. I know I'm stronger and faster than that, I just couldn't put it together tonight."
Nina Schultz following day one of the women's heptathlon
Day one of the heptathlon in the books
"The first two events went really well; I was happy. The 200-metres was a little rough. I'm pretty disappointed in that event. It's my first Commonwealth Games, I just want to have fun so I don't want to carry that negative attitude into day two. I will reset tonight and get out there tomorrow."
Top 8 finishes
Alexandre Dupont, T54 1500m – Gold
Christabel Nettey, long jump – Gold
Mohammed Ahmed, 5,000m – Silver
Shawnacy Barber, pole vault – Silver
Aaron Brown, 200m – Silver
Pierce LePage, decathlon – Silver
Django Lovett, high jump – Bronze
Tim Nedow, shot put – Bronze
Diane Roy, T54 1500m – Bronze
Sultana Frizell, hammer throw – 4th
Elizabeth Gleadle, javelin throw – 4th
Adam Keenan, hammer throw – 4th
Benjamin Thorne, 20km race walk – 4th
Crystal Emmanuel, 200m – 5th
Sage Watson, 400mH – 5th
Natasha Wodak, 10,000 metres – 5th
David Bambrick, F38 shot put – 6th
Michael Mason, high jump – 6th
Deryk Theodore, pole vault – 6th
Genevieve Lalonde, 3,000m steeplechase – 7th
Tristan Smyth, T54 1500 – 7th
Kevin Strybosch, F38 shot put – 7th
Evan Dunfee, 20km wace walk – 8th
For more on Team Canada and the Gold Coast 2018 Commonwealth Games, visit www.athletics.ca/gc2018.