Much More than Medals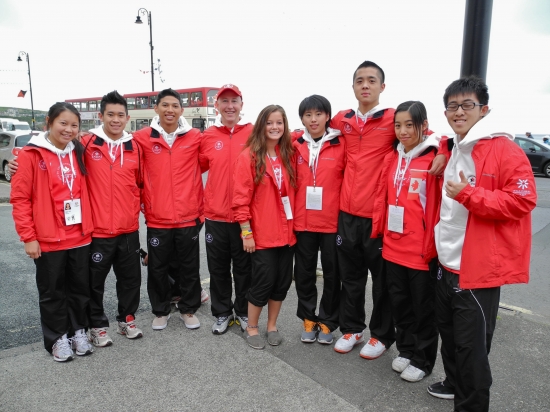 If you had asked them a year ago what they knew about the Isle of Man, they might very well have given you "the look" that every parent of a teenager knows only too well, and then turned their attention back to whatever text message they were thumbing at the time.
Ask them now and they'll say it's a beautiful, friendly, sport-crazy country.
They'll talk about the symbolism behind the three legs of Man, about castles and steam trains, and about cats with no tails. They'll talk about their first international Major Games experience and about being good enough to succeed against world-class competition.
They'll say it's a place they won't soon forget, if ever.
Clearly, their perspectives have changed, and that's what has their Canadian coaches so excited.
In early September, 56 Canadian athletes, supported by about a dozen coaches and a small group of Mission Staff, travelled to the Isle of Man, a tiny island nation in the Irish Sea, site of the IV Commonwealth Youth Games.
Representing 63 different nations and territories, Commonwealth athletes aged 14 to 18 sprinted, swam, vaulted, smashed, jabbed and tackled their way through three days of high-calibre competition. Canadians competed in six sports: Athletics, Badminton, Boxing, Cycling, Men's Gymnastics and Rugby 7's.
"From a long-term athlete development perspective, the Commonwealth Youth Games are about learning how to compete in an international multi-sport environment," noted Scott Stevenson, Director of Sport for Commonwealth Games Canada. "We took a team to the Isle of Man with every intention of coming back with medals, but we also expected there would be tremendous value in the experience itself."
The consensus amongst Team Canada's coaching contingent is that the group was successful on both fronts, with athletes producing 16 podium performances, numerous personal bests and, most importantly, discovering that they really do belong on the international stage.
"This competition opened up their minds to a whole new range of possibilities," concluded Jeff Ain, one of two coaches leading the 7-member cycling team. "These are the top performers in Canada, but now they've experienced competition in Europe and have come to realize there's a whole other level outside North America. I expect to see a different mindset when they get back to training in Canada."
Half of Canada's medal tally was earned at the track, with sprinters leading the way. Sprint Coach, George Kerr, ChPC, observed a noticeable change in mindset, triggered by early success in the heats.
"When our first two athletes ran well and advanced to the semi-finals, it was like an infection took hold of our entire group," Kerr said. "It was like they all went, 'Hey, we can do this too!'"
Kerr pointed out that sending Canada's third and fourth ranked athletes to the Commonwealth Youth Games—while the top two competed at the World Junior Championships in France—means the Canadian program is that much deeper, with twice the number of athletes having gained invaluable international experience.
Christine Laverty, ChPC, Head Coach for Team Canada's track and field squad at the Commonwealth Youth Games, stressed that the inspiration the athletes found on the Isle of Man is already having an observable impact on their approach and attitudes towards the sport.
"It's really important because it motivates them to stay with it, to stick with the training, because they do realize there are opportunities out there."
The Commonwealth Youth Games can be a pivotal point in an athletes development, according to Laverty, who coached Julie Labonté to her first international gold medal at the 2008 Commonwealth Youth Games in Pune, India. Three years later and Labonté is the reigning national senior womens champion in both the discus and the shot put.
"Before Julie, we'd never had an athlete do that before," confirmed Laverty. "I see Pune as the real starting point for her and I think Isle of Man is going to be the starting point for other Canadian athletes as well."
Canadian coaches also highlighted the unique benefits of a multi-sport event.
"By watching and talking to their peers in other sports, our athletes are absorbing all kinds of useful information, often without even knowing it," reported Jeff White, Head Coach of the 8-member Badminton team. "It gets them thinking outside the boundaries of their own sport which also contributes to this overall change in mindset."
The multi-sport environment created useful opportunities for discussion amongst coaches as well.
"Sitting around and talking to a lot of the other Canadian coaches, you realize there's a lot of commonalities there, we face many of the same benefits and challenges in working with this age group," observed Darrell Devine, Assistant Coach with the Rugby 7's squad. "You learn from their experiences and get reference materials that may come in handy down the road. The Commonwealth Youth Games were a great learning experience for me."
"With no previous experience at a multi-sport event outside Canada, I really had no idea what to expect," added Bob Pegues, who coached a group of 5 boxers, all first-timers at this kind of international competition. "I had a pretty good sense that the Commonwealth Youth Games were going to be a great developmental opportunity for the athletes, but what I didn't realize was how valuable they'd be for me as a coach."
Ultimately, the team of Canadian athletes and coaches that returned from the Isle of Man is different—more confident and more motivated—than the one that left.
"Our guys now realize they have to bring a more businesslike attitude," added Shane Thompson, Head Coach of the Rugby 7's team that improved steadily as the tournament progressed, finishing fifth overall. "You want to have fun, but still you have to focus and get rid of all the distractions. You need to be open to learning from other athletes. And you have to plan and prepare and adjust to make sure you're ready to go when it's time for training or competition."
The full impact of this competition won't likely be known for some time yet and it will vary, of course, from athlete to athlete, and from coach to coach.
But as she concluded her second Commonwealth Youth Games, Athletics Coach Christine Laverty remained convinced of the unique value of the international, multi- sport experience for this age group.
"There's a change in some of the athletes after they've crossed the finish line and recognized they've had some success," said Laverty. "It's no longer 'I want, I want,' it's 'I can, I can.' I think that's the big difference."