Mia Vallée is Golden at 1m, Zsombor-Murray and Wiens Win Silver in the Men's 10m Synchro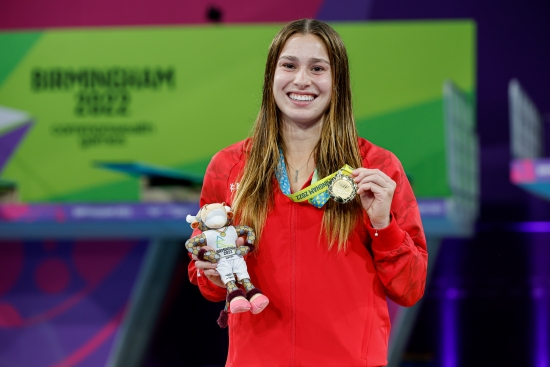 August 5th 2022 – Mia Vallée launched her Commonwealth Games campaign in fine form Friday at the Sandwell Aquatics Center in Birmingham, England, where she stood atop the podium in the women's 1m springboard event.
"It's incredible! What a great first day! It's what I was hoping for. I knew I could do it », exclaimed the Quebec-born athlete, her voice cracking with emotion.
She was rewarded with 291.85 points for her five-dive performance and beat out her nearest competitor, Australia's Brittany O'Brien, by a wide 12-point margin (297.60). Englishwoman Amy Rollinson won bronze with a score of 272.00.
Also in action, Alberta's Margo Erlam finished 9th with 239.25 points.
When she got out of the pool after her last dive, Vallée realized that she was Commonwealth Games champion and could not believe her eyes.
"When I got out of the water after my last dive, I felt so happy, but also relieved. I put so much pressure on myself. I really wanted to win. I'm thinking back to when I qualified for this competition at the National Championships in May. Back then, I couldn't have even imagined winning a medal here. Now, I'm here. I'm diving well, consistently, and I'm just become a Commonwealth Champion", Vallée shared.
After her recent success at the World Championships, Vallée was feeling unsuspected pressure upon her arrival in England. She had surprised even herself by winning the bronze medal at 1m and the silver medal at 3m in Budapest, last month.
"I never thought that I would feel the pressure that comes with the two medals I won at Worlds. I was a little bit worried it might affect my performance. But over the last year, I've developed this ability to put it completely aside. It's like there's something that changes in my brain and I tell myself, "Okay, I can do this". It helped me today", added the 21-year-old diver.
"It's like I am completely in the zone. I want to do well so badly that all the pressure and bad thoughts disappear. I only concentrate on diving, what I need to do at that moment and I forget the rest", added the Kirkland, QC, athlete.
She will take the rest of the night off to relax and prepare for her two next events.
Nathan Zsombor-Murray and Rylan Wiens are silver medalists
The Canadian pair of Nathan Zsombor-Murray and Rylan Wiens had their sights set on the podium of the men's 10m synchro event this week. They came through, securing silver on Friday evening.
"Up until now, everything is going well for us. We've participated in three events together and we've won three medals – one of each colour", shared Zsombor-Murray, hailing from Pointe-Claire, QC.
The Canadians protected their lead over Australia's Domonic Bedggood and Cassiel Rousseau (412,56), edging them out by little more than one point to sneak onto the second step of the podium.
Native sons Matthew Lee and Noah Williams, brought home the gold for England in front of an enthusiastic crowd with a score of 429.78.
"I try not to watch the scoreboard too much but I knew we were first after our fourth dive. Our reverse dive made us lose a spot and it was really tight with the Australians, but we did it", explained Zsombor-Murray.
Zsombor-Murray feels the pair's greatest strength is the excellent chemistry between Wiens and himself.
"We've known each other for so long. We've been diving together forever. Even when we were rivals, we got along great. I think that now that we're teammates, it's even better", he shared.
Zsombor-Murray and Wiens were bronze medalist in the same event at the recent World Championships held in Budapest.
Saturday, Bryden Hattie and Cedric Fofana will be in action in the men's 3m. Mia Vallée and Margo Erlam will join forces in the 3m synchro, and Caeli McKay and Celina Toth will pair up for the 10m platform.
For complete results visit : https://results.birmingham2022.com/