Maude Charron Repeats as Commonwealth Games Weightlifting Gold Medalist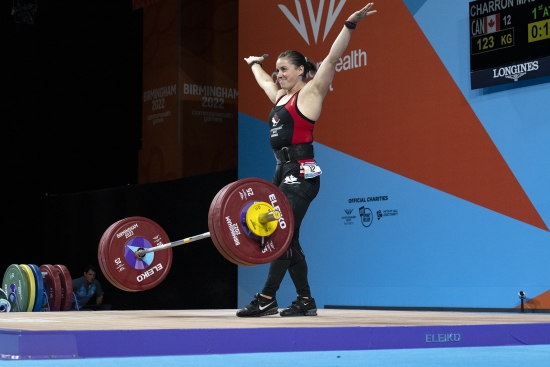 It was a familiar story on day three of weightlifting at the 2022 Birmingham Commonwealth Games, as Maude Charron repeated as gold medalist. Charron, who previously won gold at the Gold Coast Commonwealth Games in 2018 and the 2020 Tokyo Olympics, added to her collection with a dominant performance in the women's 64kg weight class. Her golden performance capped off another strong day for Canadian weightlifters that also saw a silver medal for Alexis Ashworth and a bronze medal by Nicolas Vachon.
Maude Charron - 64kg
It was the event that Canadian weightlifting fans were anticipating as Maude Charron got her competition underway during the afternoon session. Charron, from Sainte-Luce, Quebec, opened the snatch portion with a lift of 98kg. She followed that up with a new Games record during her third lift of 101kg, which gave her a 1kg lead heading to the clean and jerk.
Charron began the clean and jerk with a lift of 123kg. That was enough to secure the gold and the Commonwealth Games record for both the clean and jerk and the total. Still, she had two more lifts to improve on those marks. She successfully lifted 127kg on her second lift and 130kg on her third to finish with a total of 231kg.
"My job is done, I can sleep well," said Charron after the win. "I knew there would be lots of eyes on me and expectations. I already put a lot of pressure on my own shoulders, so I try to separate my own pressure and that of others. I try to put the past behind me and focus on what I have to do: I have three snatch attempts, and three clean and jerk, that is all I needed to focus on."
Charron clearly handled the pressure and after another gold medal can begin to turn her attention to the Paris Olympics in 2024, which will present a new challenge.
"64kg is no longer in the Olympics, so I have to either go up to 71kg or down to 59kg. I have tried to gain weight, and it was a nightmare, so we tried to see how my body would lose weight. In two months, I lost 2kg, so I decided that the easier answer was to go down," said Charron. "I have already started to cut; it is a new challenge, and I am excited about it. I was happy with what I did today. I went in as a 61.5kg, which is really low, but I did not get dizzy during my clean and jerk, I pulled out the 130kg without my legs tiring too much, so I am happy with that."
Alexis Ashworth - 71kg
Oungre, Saskatchewan's Alexis Ashworth was the final Canadian to compete on the day, during the evening session, looking to make a splash in her first international competition. Ashworth began the snatch session with an unsuccessful attempt of 91kg. She did hit it on her second try but could not improve on her third. She sat fourth after the session.
Ashworth began the clean and jerk with a successful lift of 112kg. She would improve on that with her second lift of 116kg and then smash it with her third at 123kg. That moved her into first for the time being, with only two competitors remaining. While the first was unable to better Ashworth, England's Sarah Davies did. Still, Ashworth walked away with the silver.
"Going into the clean and jerk we opened conservatively and just put a weight on the bar. I was a lot more confident with my clean, so it was whether I could jerk," said Ashworth. "We were smart about the numbers we put on. We started lighter and the last weight was all or nothing, so I just gave it my best. I was emotional after the snatch didn't go how I had planned. I didn't think I had a chance at a medal. I shook it off and that helped the pressure go away. I was thinking too much about what was next. When I went to the clean and jerk it was one lift at a time and that took the stress away."
Nicolas Vachon – Men's 81kg
St-Hippolyte, Quebec's Nicolas Vachon kicked off day three action. Vachon opened with a 136kg lift in the snatch competition. After missing his second attempt, he had a successful third try of 140kg. That was good enough for fourth place after the session.
Vachon entered the clean and jerk portion with one of the biggest numbers on the board at 175kg. He would hit that and then also successfully lift 180kg. That secured a bronze medal for Vachon, but he looked to improve the colour of his medal with a final lift of 187kg. Vachon came so close, getting the bar up, but his back wouldn't allow him to complete the lift. Still, he took home a bronze with a total of 320kg.
"I feel really great!" Vachon said after the competition. "That was not the snatch I wanted but I came back in the clean and jerk and I think I surprised all my competitors. For me, that was a gold medal performance, so it is a win today. After the jerk, I was sure I had it (his 187kg lift). The bar went up easily, so I tried to squeeze but my back just wouldn't do it and I had to drop. Now it is something that I will focus on in training."
The three medals brings the total to six (1 gold-1 silver-4 bronze) for Canadian weightlifters. Weightlifting continues tomorrow in Birmingham. For complete information visit the event site.