Maude Charron Claims Gold in Record Breaking Weightlifting Performance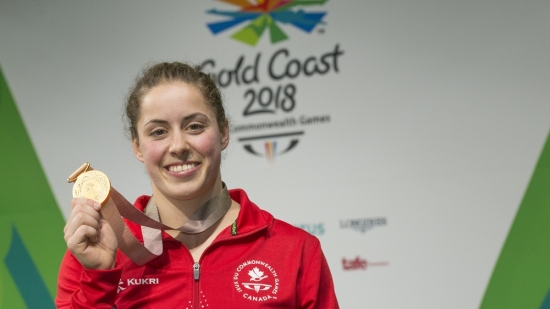 GOLD COAST, AUS. (April 7, 2018) – Maude Charron (Rimouski, QC) has broken a 12-year weightlifting record confidently outlifting her entire 63 kg class to claim the gold medal at the 2018 Commonwealth Games.
It was after again, unbelievably, lifting the highest starting weight of 117 kg for the second half of the competition, that Charron knew she had won the gold in the 63 kg weightlifting competition. With the crowd looking on and cheering for her every movement, she knew she could break the clean & jerk record of 121 kg set by fellow Canadian weightlifting hero, Commonwealth Games Champion, two-time Commonwealth Games medalist and two-time Olympic medalist Christine Girard at the last Australian Commonwealth Games held in Melbourne in 2006.
"We wanted to break the record and lift 122 kg," said Charron. "I had done it twice in competition in the past, so I knew it was possible and I wanted it very bad, so with the crowd and the energy and their support encouraging me, I went for it."
In weightlifting, the winning competitor is the one that lifts the highest total combined weight after two halves of the competition, snatch and clean & jerk. It was for both phases that Charron had to be patient and wait for the entire 13 athlete field to complete their three different lift opportunities. For the snatch portion, with the highest snatch start weight of 94 kg, Charron lifted last with a successful first and third lift resulting in a final lifted weight of 98 kg, six kg higher than her nearest competitor, Zoe Smith of England. For the clean & jerk portion, she did it again.
"In weightlifting you don't get to choose when you lift because so much depends on the strategy and choices of the other competitors," said Charron. "But based on other competitions back home in Canada, when I train I always lift every two minutes which has allowed me to recover faster and allow me to do my best three lifts in close succession."
Having successfully lifted 117 kg in her first clean & jerk lift and winning gold, she successfully lifted 122 kg with her third lift and broke the record. She immediately broke into celebrating with the crowd revelling alongside her.
"I don't really feel it right now it's a little to early to let it sink-in but I feel amazing," said Charron.
With only three years of weightlifting competition experience, this outstanding born-athlete has lived a few other lives on her way to a record-breaking gold medal. A current CrossFit competitor, it was after too many injuries that the former childhood gymnast and École de Cirque de Québec circus performer, took a different path that has led the 25-year-old Charron to be a 2018 Commonwealth Games Champion.
"After leaving performing with the circus school, I never thought about other possibilities," said a beaming Charron. "I was a gymnast before I was a circus artist and like every little girl you want to win a gold-medal in a competition but with the injuries you have to make choices. With gymnastics, circus or CrossFit, I never thought it was possible to go and participate at the Commonwealth Games."
Fully looking forward to celebrating, watching the rest of the Commonwealth Games competition and then returning home to continue her business management studies back in Canada, when asked, Charron looks back at her preparation and what went right.
"This is my first time to a Commonwealth Games so there are new pressures and I am still learning about the stressors at this level of event," said Charron. "I knew I was able to take the gold and I knew I was capable of breaking records but I knew I had to deal with the pressures and stress and be mentally prepared to do so."
Weightlifting continues in the Gold Coast on April 8th and 9th with Canadian weightlifters going for more medals in five of the six remaining weight categories.
Patrick Kenny
0481742861