Marie-Eve Beauchemin-Nadeau Wins Silver at her Third Commonwealth Games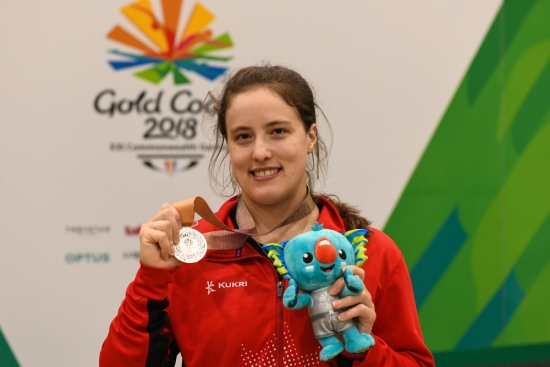 Gold Coast, Aus. (April 8, 2018) Marie-Eve Beauchemin-Nadeau, a Canadian inspiration to the 2018 weight-lifting team and so many up and coming athletes, is now a 2018 Commonwealth Games silver medalist. The 2014 Commonwealth Games Champion (75 kg), 2010 Commonwealth Games silver medalist (75 kg) and two-time Olympian (2012, 2016), has battled a new field here in Australia in the 75 kg weight-class to once claim a new Commonwealth Games medal.
On her first lift, Beauchemin-Nadeau missed the lift and realized that her strategy was off.
"I lost focus and started to look ahead instead of focusing on what I was doing for each single lift," said Beauchemin-Nadeau. "I sound a little bit depressed but I am not, I am super happy and the gold-medalist did a great job."
Although that mistake may have cost her the gold medal to Emily Godley of England, Beauchemin-Nadeau actually congratulated and encouraged her English competitor during the competition and is very happy with her accomplishment here in Australia.
"The English woman did an absolutely perfect competition and she totally deserves it and I am very happy with my 95 kg in the snatch, it is three kg over what I have done in training lately and for my clean and jerk…. it was really heavier than I recall," said the silver medalist with a laugh. "I am very happy I earned my silver medal in the end."
Having earned the 75 kg Commonwealth Games record of 140 kg in the clean & jerk and the total weight record of 250 kg at the 2014 Commonwealth Games, records that still stand, Beauchemin-Nadeau was well known to her Gold Coast competitors and fans. A high-school track sprint athlete, Beauchemin-Nadeau started weightlifting in high school when her coach told her to try weightlifting to enhance power of her start. She knew it was the sport for her instantly. Now a physician in a detention center, Beauchemin-Nadeau has also become known for her sportsman-like attitude and for becoming an inspiration to so many up-and-coming athletes.
With one day to go, the team has already beaten the number of medals earned in Glasgow, earning five medals so far here on the Gold Coast.
"We have an amazing team here in Australia, very young, very unexperienced but still very focused and very strong. I think we have a great future for weightlifting in Canada," said the three-time Commonwealth Games lifter.
When asked if she realized she had become such an inspiration to so many within her sport, she smiled and thought about the question before answering.
"I don't think I realize that," she said. "I try to be as much of a mentor as I can be because my experience can be useful to them and I know I have more to give. I know my career is not going to be too much longer and if I can leave a little bit of a trace that can help the new generation, then so be it."
Patrick Kenny
0481742861