Maggie Mac Neil and Nicolas-Guy Turbide Win Thrilling Races on Four-Medal Night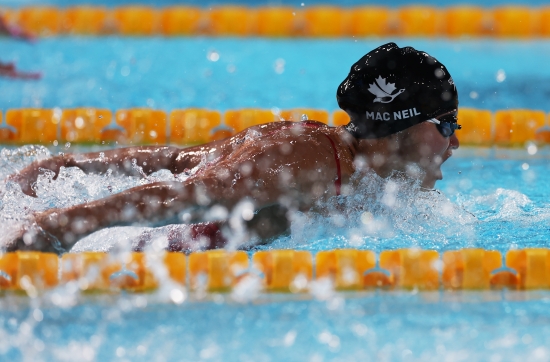 Olympic champion Maggie Mac Neil and Nicolas-Guy Turbide of Quebec City each won gold Saturday in two of the closest swimming races so far at the Commonwealth Games.
Mac Neil, from the High-Performance Centre-Ontario/London, Ont., also anchored Canada's 4x100-m women's freestyle relay to bronze. Meanwhile the Canadian men's 4x100 freestyle was also third in its final to make it a four-medal night. After two days the Canadian swimmers have collected three gold and three bronze.
In the women's 100-m butterfly final, Mac Neil emerged from the turn with a half body length lead and held on for victory in 56.36 seconds. She edged defending champion Emma McKeon of Australia by 0.02 seconds, while Australian Brianna Throssell was third in 57.50.
Mac Neil focused on relays for last month's world championships in Budapest due to an elbow injury and to give herself a mental health break. She has won the 100 fly at her first worlds (in 2019), Olympics and now Commonwealth Games.
''I was really motivated to get back,'' she said. ''I'm extremely proud to win the gold here at my first Commonwealth Games. At the worlds I got my feet a little bit wet but I knew the focus was going to be these Games.''
There were three Canadians and three Australians in that final. Katerine Savard CAMO/Pont-Rouge, Que., the 2014 Commonwealth champion, was fifth in 58.09 and Rebecca Smith of the University of Calgary/Red Deer, Alta., was eighth in 59.54.
"It was great to see Maggie having made the decision that she di earlier in the year, come back and win gold in the 100 butterfly and do a great job at the event," said high performance Director and National Coach John Atkinson.
Turbide's race was even closer. The two-time Paralympian clocked a Games record and Canadian record for the S13 category, posting a 24.32 in the men's 50-m freestyle for the visually impaired. He edged Stephen Clegg of Scotland by a mere 0.01 seconds (24.33) while Jacob Templeton of Australia was third in 24.47.
''I executed the race plan exactly the way I wanted to,'' said Turbide, world champion in the 100-m backstroke and silver medallist at last year's Tokyo 2020 Paralympics. ''I had just one key in my head which was to keep my head down in the last 15 metres and touch the wall first.
''I usually struggle with that and keep my head up too much, but I didn't do that and that's what got me on top on the podium.''
There was no preliminary or semifinal for the event but Turbide, based at the Club de Natation Region de Quebec, was ready.
''It's all about experience,'' said Turbide, 25. ''I had everything I had done in the past with me in international meets. I knew I would be ready. Today was probably the longest day of my day of my life waiting for that race.''
For Nic it was a great way to finish the season," said Associate High Performance Director and National Para Swimming Coach Wayne Lomas. "It shows what a great racer he is to win that event and close out the close finish."
In the men's 4x100-m freestyle relay, Australia took the gold in a Games record 3:11.12, with England second in 3:11.73 and the Canadians third in 3:13.01. The Canadians in the final were Joshua Liendo, Ruslan Gaziev, Finlay Knox and Javier Acevedo. In the preliminaries it was Knox, Stephen Calkins, Jeremy Bagshaw and Eric Brown – the latter three will also each get a medal.
It's Canada's first men's relay medal at a major championship or Games since the Toronto 2015 Pan Am Games, and first at Commonwealth Games since 2006.
"We've had some fantastic individual performances, but the consistency and depth of swimming from our relays is very important to our program," Atkinson said. "As a team overall, we have 14 medallists out of 28 swimmers already."
'It's super cool,'' said Gaziev. ''I told the boys this is two years out of the Olympics. We might not have won but we are building momentum. We're young and we have so much there. That's the most exciting thing.''
''This team is so strong and it gives us hope we can improve in the future,'' added Acevedo, also on the third place mixed freestyle relay team on Friday.
Australia also won the women's 4x100-m freestyle relay in 3:30.64. England followed in 3:36.62 and the Canadians with Summer McIntosh, Savard, Smith and McNeil, the latter three all in that 100 fly final a few minutes before, were third in 3:37.25. The event was a straight final.
''I didn't really know what to expect, the 100 free is not my main event so I just tried to put a good time down to set it up for the rest of the girls,'' said McIntosh, a gold medallist Friday in the 400-m IM.
''I'm a little disappointed with my swims tonight,'' said Smith, also on the mixed relay squad that won bronze Friday. ''It's the second straight night I had that double and I tried to do the same thing.''
''It was a hard double for the three of us,'' added Savard. ''We did our best and it turned out pretty well.''
In other finals, Liendo (HPC-Ontario/Markham, Ont.,) was sixth in the men's 50-m butterfly in a personal best 23.42. Ben Proud, the defending champion and world champion, grabbed England's first gold in the pool winning in a Games record 22.81.
''Looking at the field it was pretty fast but it still feels like a weird race for me,'' said Liendo, a triple medallist at the world championships. "There are things like my breathing pattern for this event I just don't know yet. But I got a best time, I have to be happy with that.''
Collyn Gagne of Simon Fraser Aquatics/Milton, Ont., was seventh in the men's 400-m individual medley in 4:19.32, his first international final.
''It was an OK swim but I definitely want to be more competitive,'' said Gagne. ''I need to get used to swimming against the fastest guys in the world.''
In the semifinals, Kylie Masse of HPC-Ontario/LaSalle, Ont. and Mary-Sophie Harvey of CAMO/Trois-Rivieres, Que., qualified first and sixth for the women's 100-m backstroke final.
Masse, a triple medallist at the world championships and the defending Games champion, clocked 58.83.
''I put a better race tonight technically,'' said Masse, the only Canadian swimmer to win gold at three world championships. ''I carried more speed off the turn and made sure my right hand was strong and straight in the water.''
Harvey, better known for her individual medley exploits, advanced with a 1:00.59.
''I'm pretty happy with this,'' she said.
Not advancing were James Dergousoff of CHENA/Christina Lake, B.C., who ranked 10th in the men's 100-m breaststroke in a personal best 1:00.86.
''It was a faster time for me than at worlds, and official this time,'' said Dergousoff, who was disqualified at last month's worlds. ''It was a clean race and a step in the right direction. There was maybe one too many strokes but that's just a simple mistake.''
Competition continues Sunday. Full results are available at https://results.birmingham2022.com/
CBC Sports will provide comprehensive broadcast and streaming coverage of the 12-day multi-sport event, including 10 hours of broadcast coverage as part of CBC Sports weekend programming on CBC TV hosted by Scott Russell and Andi Petrillo, six daily streaming feeds of the competitions available on CBC Gem, cbcsports.ca and the CBC Sports app for iOS and Android devices, and up-to-the-minute news across CBC Sports digital and social media platforms.