Hollie Naughton Named Team Canada 2022 Closing Ceremony Flagbearer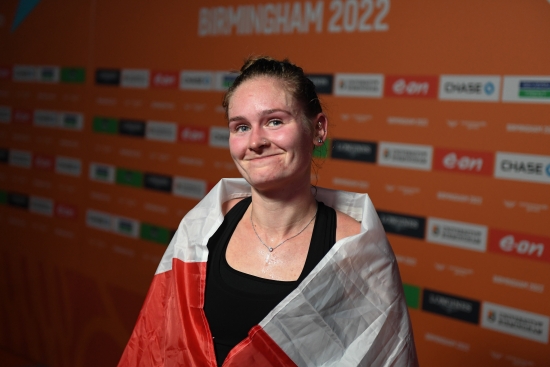 Hollie Naughton (Oakville, ON), the first Canadian woman to ever medal (silver) in the sport of squash at the Commonwealth Games, has been named the Team Canada 2022 Closing Ceremony Flagbearer.
Naughton grew up around a squash club because her mom, dad and aunt all play and began playing squash herself at age seven. Naughton was part of the Canadian squad that won team silver at the 2015 Pan American Games. She won silver at the 2018 and 2019 Pan American Championships. She was champion of the Racquet Club Pro-Series 2020, Nicola Wealth Open 2016 and represented Team Canada at Women's World Team Championships: 2014, 2016 and 2018. Naughton is a three-time Canadian Women's Open Champion: 2016, 2017, 2022 and champion of the Pan American Junior Championship Individual & Team 2013.
Upon being updated with the great news from Team Canada 2022, co-Chefs de Mission, Claire Carver-Dias and Sam Effah, Naughton described the surprise and honour.
"I keep using this word honoured but I'm not quite sure what else covers it. I have felt extremely honoured to compete for Canada here at my first Commonwealth Games, to make history in the squash community and now the biggest of all, leading Team Canada in the closing ceremony," said Naughton. "If three weeks ago you would have told me this would be what my Games looked like, I wouldn't have believed you! I'm beyond proud to have been given this opportunity. What an experience this week has been, this will take a while to sink in but for now let's shut this games down!"
Visit http://commonwealthsport.ca for results, news, photos, videos, social media links and more.