Hollie Naughton Becomes the First Canadian Women to Ever Win a Medal in Squash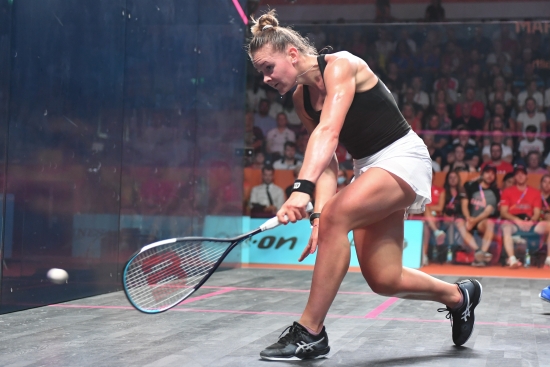 Aug 3, 2022 – Winning a silver medal tonight in women's singles, Hollie Naughton (Oakville, ON), has become the first Canadian woman to ever medal in the sport of squash at the Commonwealth Games.
Naughton, who went into the 2022 Commonwealth Games competition with a ranking of 20th in the world, met eighth ranked Georgina Kennedy of England in the gold-medal final. In the end losing the game 3-1, Naughton fought incredibly hard and never gave up.
Happy with the silver medal, Naughton understood what this accomplishment meant to her but also the next generation of Canadian squash players.
"I'm hoping that I'll inspire some of the nest generation to show that you can do it, it is possible. "You just have to dedicate yourself and show that you have determination and grit," says Naughton. "What an unbelievable place to be and I don't think that anything else stacks up quite like it. I hope that the next generation can see that it is a phenomenal thing to do and nothing really compares."
The Squash competition continues tomorrow at the University of Birmingham, with the double's tournaments.
Contact information for Team Canada media attachés can be found on the Team Canada 2022 Media page.