High honours for CGC board member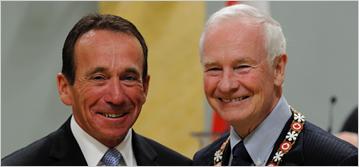 John Stanton, founder of the Running Room and a member of Commonwealth Games Canada Board of Directors, was invested as a Member of the Order of Canada at a ceremony at Rideau Hall on November 17. Stanton (left) received the honour from Governor General David Johnston for his contributions to promoting physical fitness and his support of charities such as the Canadian Breast Cancer Foundation.
CGC and the Running Room are collaborating on a run in the new year to raise awareness about CGC's International Development through Sport programs. Look for more details on the 10K run and 5K walk in the January edition of the CGC Communiqué.