Good Things Come in Threes for Canadian Judokas on Day 2 of the 2022 Commonwealth Games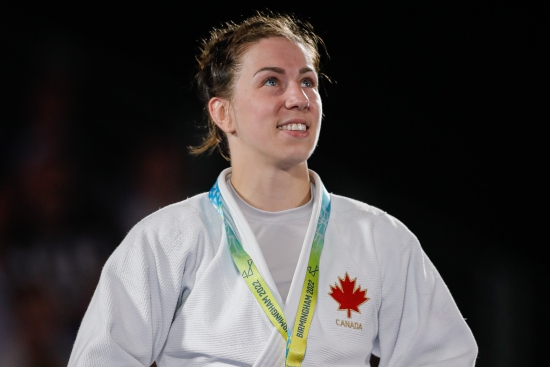 Aug 2, 2022 - Three Canadian athletes were competing in judo today at the 2022 Commonwealth Games held at Coventry Arena. The three Canadians judokas won a trifecta of medals, one is every colour, in the Finals Session held at 5 p.m. local time. Canada had two entries in the men's -81kg: François Gauthier-Drapeau and Mohab ElNahas. Olympic bronze medalist, Catherine Beauchemin-Pinard competed in the women's -63kg.
Catherine Beauchemin-Pinard, gold in Women's -63kg.
Beauchemin-Pinard (Saint-Hubert, QC) started her journey to the gold medal round with a victory by ippon in her quarterfinal round against Cynthia Rahming of the Bahamas, pinning her down decisively from the ground at 1.04 in regulation. It was a similar outcome by ippon in her semi-final bout against Cameroon's Audrey Biock. In the final, Catherine was facing hometown favourite Gemma Howell of England in a highly entertaining fight between two rivals who had recently trained together. Howell, wise to Beauchemin-Pinard's strength on the mat, tried to defend accordingly. In the end, Beauchemin-Pinard did triumph on the ground by ippon in extra time.
When asked about her experience competing at the Commonwealth Games, Beauchemin-Pinard spoke of the crowd's support
"It's bigger than I thought! The final, with the crowd… of course they were cheering more for my opponent but I could hear some in the crowd screaming "Canada" and cheering me on. This Commonwealth final was a great experience. It certainly finished on a high note," said Beauchemin-Pinard
François Gauthier-Drapeau, Silver in Men's -81kg.
Gauthier-Drapeau (Alma, QC) fought with quiet conviction and was never truly challenged in his opening match-up against Ghana's Rashid Alhassan, winning by ippon in 38 seconds. In his quarter-final fight, Gauthier-Drapeau needed to get down to business to overcome a feisty Asa Weithers, representing Barbados, by ippon in 2.11 of regulation time.
In the semi-final, the home crowd was squarely behind Northern Ireland's Eoin Fleming who put on a valiant effort, ultimately in vain. Gauthier-Drapeau prevailed by ippon, punching his ticket to what could have been an all-Canadian final against Mohab ElNahas, had England's Laughlin Moorhead not put a damper on the proceedings.
Although disappointed in the outcome, Gauthier-Drapeau was satisfied with his overall performance.
"Well, I did pretty good at the beginning of the day, all my fights before the final, I thought I was fighting very well. But in the final some things that were unplanned made me lose. Of course, I'm still happy, I fought well in the first matches and I still have some things to be proud of," said Gauthier-Drapeau
Mohab ElNahas, Bronze in Men's 81kg.
Mohab ElNahas (Montreal, QC) made quick work of his first-round opponent, Nauru's Kendrick Taleka, felling him by ippon in 33 seconds. His quarter-final opponent Elliott Connoly of New Zealand was a fierce competitor, going toe to toe with ElNahas until the Canadian spectacularly threw him on his back, to an audible gasp of the audience for a victory by ippon in 1:43 of regulation.
In the semi-final, ElNahas came up short against Laughlin Moorhead, the local favourite buoyed by the boisterous crowd, who would eventually go on to win gold. ElNahas, who was a last-minute addition to the team after coming back from injury earlier than expected, won his bronze medal match against Asa Weithers from Barbados by ippon.
"I feel very good, I am satisfied even though I would have loved that have been a step higher on the podium, I would have loved the gold medal. But it's ok," said ElNahas "I made a few mistakes which cost me in the semi-final but at the end of the day, I was able to get on the podium and I'm happy."
After Day 2 of the judo competition, every Canadian who has taken the mat has medaled. Four more Canadians will compete tomorrow. They are: Kyle Reyes and Shady ElNahas in the men's -100kg, Marc Deschênes in the men's +100kg and Coralie Godbout in the women's -78kg.