Gold! Team Canada Thrills the Audience and Wins in the Rhythmic Gymnastics Team Competition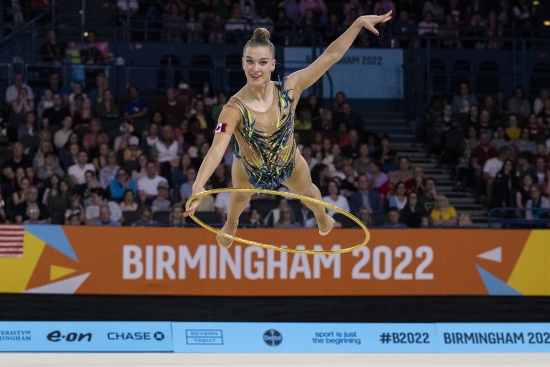 Aug 4, 2022 - Team Canada's Rhythmic Gymnastics athletes preformed 12 showstopping apparatus routines on the seventh day of competition at the 2022 Birmingham Commonwealth Games, scoring the most points and winning gold.
Rhythmic Gymnastics at the Birmingham 2022 Commonwealth Games showcases the four apparatus of ball, clubs, hoop & ribbon. The 2022 gold medal winning rhythmic gymnastics team of three consists of Carmel Kallemaa (Barrie, ON), Tatiana Cocsanova (Montreal, QC), and Suzanna Shahbazian (Montreal, QC).
In the team final, the Canadian women's team won Gold at the Arena Birmingham. With a grand total of 272.950 points, together they earned first in Hoop (82.900), first in the Ball (81.900), second in Clubs (55.700), and lastly fourth with the Ribbon (52.450).
After winning the gold medal winning team member Carmel Kallemaa of Barrie, ON spoke of what winning a gold medal for Canada feels like.
"First I want to thank Canada for trusting me and believing that I could represent Canada well, said Kallemaa. "The feeling I have is very hard to describe. For the next few days and until I get home and it actually kicks in and I realize that I am a Commonwealth Champion. I think the feeling is going to hit me a little later."
The Rhythmic Gymnastics competition continues tomorrow and Saturday at the Area Birmingham, with the all-around and individual apparatuses.
Team Canada at the 2022 Commonwealth Games can be viewed on CBC Sports' platforms, including six daily streaming feeds available on cbcsports.ca, CBC Gem and the CBC Sports app for iOS and Android.