GOLD, Silver and Bronze in athletics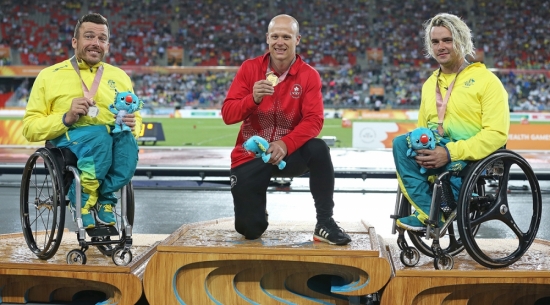 It was Gold, Silver and Bronze at Carrara Stadium for Alexandre Dupont, Pierce LePage and Diane Roy on day three of the athletics competition.
Wheelchair racer Diane Roy, the eldest athlete competing in athletics at 47 years of age, took to a wet track in the women's T54 1500-metres. Roy used her experience, pushing hard with more than 400-metres to go to register a mark of 3:36.97, capturing the Bronze medal.
"I was prepared for that. After 26 years of racing, I've seen it all; I was prepared for any situation," said Roy. "It was a slow race. I just wanted to maintain control and then with 400 to 600 metres left give it my all. I'm happy with my result – a Bronze medal for Canada."
After seeing Roy earn a Bronze medal in the previous event, Alexandre Dupont took to the track with one thing on his mind – a medal in the same distance. Despite a wet track, the men went hard for the entire 1500-metres. And then with one lap to go, Dupont kicked it into high gear, beating out Australia's Kurt Fearnley for the Gold medal.
"Everyone wants to go out and do that. This time I had enough; it's the best finish I've ever had. I'm super happy with it," said Dupont. "I won't celebrate too much tonight, I have to race the marathon on Sunday. After that, I'll go out and have some fun."
Heading into day two of the men's decathlon, Canada's Pierce LePage found himself sitting in second place, only 129 points off the lead and a podium finish well within his reach.
LePage came out strong in the 110-metre hurdles, with a time of 14.71 seconds, then registered a throw of 43.90 metres in the discus and a personal best 4.90 metres in the pole vault. The young Canuck would head into the evening session with the lead (6,889 points) and his eyes on the top spot of the podium. But a personal best in javelin (58.24 metres) and 4:58.00 in the 1500-metres wouldn't be enough. LePage would have to settle for Silver and a personal best of 8,171 points.
"[This medal] means so much [to me]. My coach and I have gone through some ups and downs. Coming here, representing Canada, it's something I will never forget," said LePage. "I'm super happy with how everything turned out. The Commonwealth Games are definitely a stepping-stone for Tokyo 2020 and next year's Worlds."
For more on Team Canada and the Gold Coast 2018 Commonwealth Games, visit www.athletics.ca/gc2018 or www.commonwealthgames.ca.