A Gold and Silver On the Tatami for the Deguchi Sisters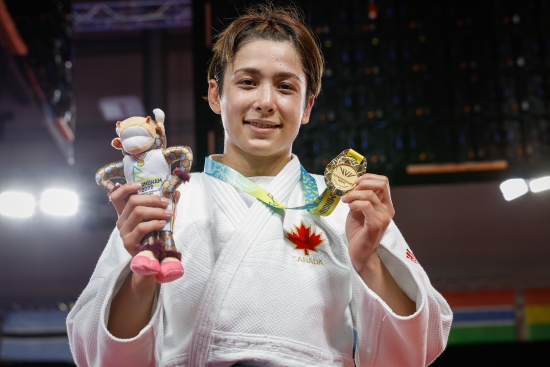 August 1, 2022 – It was an excellent start to the judo competition for Team Canada today at the 2022 Commonwealth Games at Coventry Arena, with two medals in two events.
Kelly Deguchi, competing in the women's -52k weight class, began her road to the silver medal directly in the quarterfinals. She made quick work of Scotland's Kristy Marsh, winning by Ippon. In the semi-final, she also quickly dispatched Marie Celine Baba Maria of Cameroon, also winning by Ippon, hence assuring herself a ticket to the gold medal match. However, her win streak came to an end in the final against Australia's Tinka Easton by Waza-ari in Golden Score. A very disappointed Kelly had to settle for silver.
Her sister Christa, competing in the women's -57kg category, was also flawless in the quarterfinal against Suchika Tariyal of India, winning by Ippon Waza-ari. In the semi-final, she was tested by an aggressive Lele Nairne, from England. Deguchi stayed calm and maintained the upper hand for the duration and won by Waza-Ari, also punching her ticket to fight for gold.
The final was more closely contested. Scoreless after regulation against England's Acelya Toprak, the match went to Golden Score. The match lasted a further two minutes and ended by Ippon when Christa decisively pinned her opponent.
Christa was asked about how special it was to share podiums with her sister in the same day.
"This was the first time that Kelly and I were going for the gold medal on the same day. It was such an exciting day. I wish she would have won gold but it's okay. But this is her first big silver medal," said Christa Deguchi.
The wise older sister added
"You know, everyone wants the gold medal, everyone works hard for that gold medal. But there's the steps, you can't be number one in one day," said Kelly.
Judo continues tomorrow for Canada with Mohab El-Nahas and François Gauthier-Drapeau both fighting in the men's -81kg and Catherine Beauchemin-Pinard in the women's-63kg. Coach Antoine Valois-Fortier believes the three judokas have a very serious shot at a medal.