TRIATHLON CANADA NOMINATES SIX ATHLETES TO THE GLASGOW 2014 CANADIAN TEAM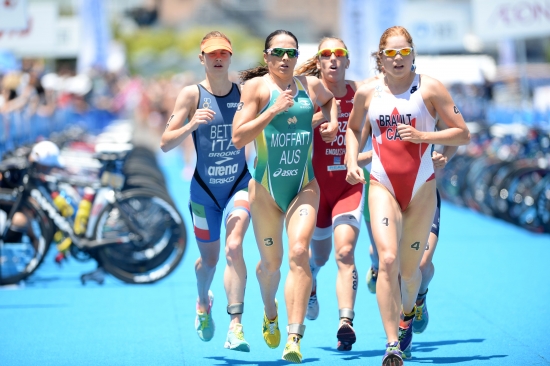 Rising Canadian stars poised to shock world in Scotland
May 28, 2014,ottawa – A group of six Canadian athletes are hungry to deliver a knockout punch when they step onto the starting pontoon for the 2014 Commonwealth Games in Glasgow, Scotland, July 23 – August 3, 2014.
A team of three women and three men – five who have won World Championship and World Cup medals and one with Olympic experience – will showcase a new era for triathlon in Canada when they wear the country's red and white race suits while swimming, biking and running in Strathclyde Country Park on the southeastern edge of Glasgow for the triathlon events this summer.
"The Commonwealth Games will be a coming out party of sorts for this very young, yet talented, group of athletes that have made huge progress, and demonstrated over the last few years they can perform under some of the most intense conditions," said Libby Burrell, high-performance director, Triathlon Canada. "As a team, we have been focused on making steady progress while advancing many of these dedicated individuals from the development to elite level racing."
"This will be the first multi-sport Games competition for many of these athletes so it will be a major benchmark for Triathlon Canada to evaluate the athletes' progress on the road to Rio 2016," said Chantal Petitclerc, Chef de Mission of the Canadian Team. "This is a confident group of energetic Canadians dedicated to excellence. They have all had a great deal of success at the development level, and are now ready to take on many of the world's best in Scotland. I look forward to cheering them on in Glasgow, and welcome them to the 2014 Canadian Team!"
Athletes nominated by Triathlon Canada to Team Canada for the 2014 Commonwealth Games are:
Kirsten Sweetland (Victoria) - Considered a medal contender in Scotland thanks to her two, top-10 results on the World triathlon Series over the last year including career-best sixth, and seventh-place finishes. At just 25 years old, Sweetland is the veteran of the Canadian women, and has climbed onto the podium at nearly every level of the sport including World Cup and Under-23 and Junior World Championships.
Sarah-Anne Brault (Winnipeg) – Now living in Quebec, Sarah-Anne earned her spot on the Commonwealth Games squad with two impressive top-10 finishes of her own on the World Triathlon Series this year that have propelled her to fourth overall in the official World Triathlon Series rankings. The 24 year old narrowly missed the podium at the season-opener in Auckland, New Zealand where she was fourth. Brault was mixing it up with the greatest names in the sport again this month in Yokohama, Japan where she was seventh.
Ellen Pennock (Calgary) - One of the most promising athletes in the sport, the dynamic 21 year old locked up her spot after finishing second at the Under-23 World Championships last year. She backed that performance up with a fourth-place finish in a high-quality World Cup field in Mooloolaba, Australia this spring.
Kyle Jones (Oakville, Ont.) - The lone Olympian to make the Canadian Triathlon Commonwealth Games Team, Jones will headline the men's squad. The 29 year old secured his spot after finishing as the top Canadian at the Grand Final of the 2013 World Triathlon Series in London where he was 19th. Jones' best result this year was an eighth-place finish at the World Cup in New Plymouth, New Zealand.
Andrew Yorke (Caledon, Ont) - Yorke put down his career-best 15th-place finish at the World Triathlon Series in Yokohama, Japan to secure his ticket to Scotland. An alternate on Canada's 2012 Olympic Team, the 25 year old has steadily been climbing his way up the international rankings.
Matthew Sharpe (Victoria) - In an effort to provide Jones and Yorke the best opportunity to climb onto the podium, Triathlon Canada are exercising a team-concept strategy by naming Matthew Sharpe to the final spot on the men's team. A strong swimmer and cyclist, the 22-year-old Sharpe will work the pack to support Canada's top-two medal contenders. The bold approach is not new for Triathlon Canada as the organization implemented at similar strategy for the 2008 Olympic Summer Games when Colin Jenkins helped propel Simon Whitfield to a silver medal in Beijing.
"Congratulations to the Canadian triathletes who, today, join our team for the Commonwealth Games in Glasgow," said the Honourable Bal Gosal, Minister of State (Sport). "We are anxious to see you go up against the best athletes in your discipline, achieve great things, and demonstrate your skills and determination to the world."
The Commonwealth Games individual triathlon races will take place on July 24. The team relay will take centre stage on July 26.
A team of 265 athletes and close to 100 coaches and support staff will be in Glasgow, Canada's largest Team ever fielded for a non-home Games. The entire Canadian Team, as well as the team's flag bearer, will be officially announced by Commonwealth Games Canada in July 2014.
The Glasgow 2014 Commonwealth Games will be held from July 23rd to August 3rd, 2014, and will be the largest ever multi-sport event held on Scottish soil.
ABOUT TRIATHLON CANADA
Triathlon Canada is the governing body for triathlon in the country. Recognized as an Olympic medal sport since 2000 and Paralympic medal sport as of 2016, Triathlon Canada's mandate is to promote, foster, organize and develop the sport of triathlon, and its related disciplines, in Canada. For more information on Triathlon Canada, please visit www.triathloncanada.com.
ABOUT COMMONWEALTH GAMES CANADA
Commonwealth Games Canada (CGC) is the international franchise holder for the Commonwealth Games and Commonwealth movement in Canada, and an active, contributing member of the Canadian sport community. The mission of CGC is to strengthen sport within Canada and throughout the Commonwealth by participating in the Commonwealth Games and by using sport as a development tool. Visit www.commonwealthgames.ca for information.
-30-
For interview requests and information on Triathlon Canada:
Chris Dornan
Media and Public Relations
Triathlon Canada
403 620 8731
hpprchris@shaw.ca
For additional information on the Glasgow 2014 Canadian Team or CGC:
Sylvie Bigras
Communications Chief
Team Canada - Glasgow 2014
613 298 1625
sylvie@magma.ca