SQUASH CANADA NOMINATES TWO ATHLETES TO THE GLASGOW 2014 CANADIAN TEAM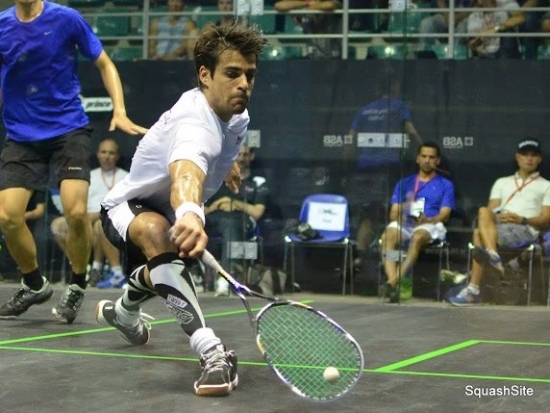 With some of the fittest athletes on the planet, squash is a growing global sport played by 20 million players in 185 countries around the world. The 2014 Commonwealth Games will continue to showcase the sport globally as its pinnacle event.
May 15, 2014, Ottawa – Squash Canada and Commonwealth Games Canada(CGC)today confirmed the athletes and coach to be named to Team Canada for the XXth Commonwealth Games in Glasgow Scotland in July.
Leading the Canadian Team in Glasgow will be 31 year old, Shawn Delierre of Montreal, QC who is participating in his 3rd Commonwealth Games. Delierre, who reached a career high #38 in the World in 2013 is looking to improve on his Round of 16 finish in Delhi. The 2013 Canadian National singles Champion, Delierre is also the holder of 12 Professional Squash Association (PSA) tour titles. In 2013 he led Canada to an 11th place finish at the World Men's Team Championship in Mulhouse, France.
Making her second appearance at the Commonwealth Games is 23 year old Samantha Cornett from Ottawa, ON. Cornett, has reached a career high #28 in the World in May 2014 on the Women's Squash Association (WSA) World Rankings and she is also the holder of 4 WSA Tour titles. Cornett recently captured her second consecutive Canadian National singles Championship and reached the Top 16 at the 2014 WSA World Championship in Penang, Malaysia. Cornett will also lead the Canadian Team when they play host to the World at the 2014 Women's World Team Championships from December 1 – 6, 2014 in Niagara-on-the-Lake, ON, Canada.
Both Cornett & Delierre will compete in singles and mixed doubles competition and are seeking to finish among the Top 8 in Glasgow.
"While I was busy competing at the 2002 Commonwealth Games in Manchester, there was much talk in the athletes' village about the exceptional Jonathan Power, who won a gold medal in squash at those Games", said Chantal Petitclerc, Canada's Chef de Mission in Glasgow. "Canadian Team members who watched Jonathan on the court were in awe of his talent and intensity. I am pleased to know that Jonathan continues to be involved with Squash Canada and its national team programs. I look forward to once again being witness to the high level squash action in Glasgow, and welcome Shawn and Samantha to our 2014 Commonwealth Games Team!".
Danny Da Costa, Squash Canada's Executive Director said, "The Commonwealth Games are one of the most important competitions in squash and our athletes are very excited to be competing in these 2014 Glasgow Games. The Canadian Squash Team in Glasgow is poised to compete for Top 8 finishes in their events, with Shawn Delierre an experienced world class squash player joining one of the rising stars on the WSA World Tour Samantha Cornett who has the potential to be challenging for medals and the 2018 event".
The two athletes and coach nominated by Squash Canada to Team Canada for the 2014 Commonwealth Games were selected based on meeting Squash Canada's selection criteria and Professional Rankings. They include:
- Samantha Cornett, 23, Ottawa, ON. Holder of 2 Canadian National Singles Championships (2013 & 2014); ranked 28th in the World on the WSA rankings and has 4 career WSA World Tour Titles. Cornett is also the 2011 Pan Am Games Singles Silver Medalist and led Canada to the Gold Medal in the Team Competition. Cornett has a number of wins over top 20 players in the world including World #10 Dipika Pallikal of India.
- Shawn Delierre, 31, Montreal, QC. Holder of one Canadian National Singles Championship (2013); currently ranked #71 in the World on the PSA World Rankings, he was a career high #38 in the world in December 2013. Delierre has captured 12 career PSA Tour Titles in his 14-year career and has been a member of Canada's National Team for over a decade. At the 2011 Pan Am Games, Delierre captured the Bronze Medal in Singles and led Canada to a silver medal finish in the team event.
- Yvon Provencal (Coach), Montreal, QC. Squash Canada's Men's National Team Coach. Under his leadership, Yvon has guided Canada at the 2010 Commonwealth Games, the 2011 Pan Am Games, 3 World Team Championship cycles and 6 Pan Am Championships. Provencal has also been a squash coach for 30 years since graduating from the Université de Montréal in Physical Education and is currently the Squash Director and Head Professional at club Sportif MAA in Montreal.
A team of 265 athletes and close to 100 coaches and support staff will be in Glasgow, Canada's largest Team ever fielded for a non-home Games. The entire Canadian Team, as well as the team's flag bearer, will be officially announced by Commonwealth Games in late June 2014.
The Glasgow 2014 Commonwealth Games will be held from July 23rd to August 3rd, 2014, and will be the largest ever multi-sport event held on Scottish soil
ABOUT SQUASH CANADA
Squash Canada is a non-profit, national sport association responsible for the development of athletes, coaches and officials. Founded in 1915, Squash Canada sets the Canadian standards for squash and works with partners to promote the growth and development of the sport across the country. Squash Canada is a proud member of the Pan American Squash Federation, Canadian Olympic Committee and the World Squash Federation, and participates in the Pan American Championships, Commonwealth and Pan Am games as well as the World Team Championships at junior and senior levels. Each year, Squash Canada also hosts several singles and double national championships for junior and senior athletes across the country. Visit www.squash.cafor information.
ABOUT COMMONWEALTH GAMES CANADA
Commonwealth Games Canada (CGC) is the international franchise holder for the Commonwealth Games and Commonwealth movement in Canada, and an active, contributing member of the Canadian sport community. The mission of CGC is to strengthen sport within Canada and throughout the Commonwealth by participating in the Commonwealth Games and by using sport as a development tool. Visit www.commonwealthgames.ca for information.
-30-
For interview requests:
Danny Da Costa
Executive Director
Squash Canada
613 731 7385 x2301
ddacosta@squash.ca
For additional information on the Glasgow 2014 Canadian Team or CGC:
Sylvie Bigras
Communications Chief
Team Canada - Glasgow 2014
613 298 1625
sylvie@magma.ca