Jessica Tuomela Wins Bronze at the Commonwealth Games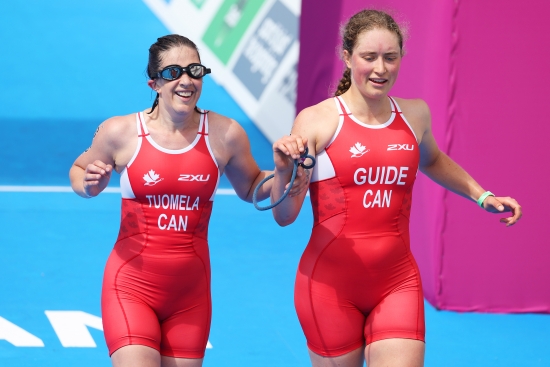 Paralympian silver medalist in swimming (Sydney 2000) and Tokyo 2020 Para Triathlon competitor Jessica Tuomela has won a bronze-medal today in para triathlon at the 2022 Commonwealth Games.
"I literally don't really have words. Two sports later and six major games later and to be able to have claim to this medal is pretty incredible," said the triathlete from Sault Ste. Marie, ON.
Overcoming recent health challenges and learning to work together with new guide Emma Skaug, Tuomela focused on the pair running their own race to achieve today's result.
"I have had some health challenges in the last six months, so we knew that might be a factor coming in and it reared its head a bit on the run, but it was about taking the time to reset, staying calm in my own brain and reminding myself that we are running our own race today and then attacking on the hill," said Tuomela. "Working within the conditions we had today I am really proud of what we did."
Last year Tuomela took fifth at the Paralympics in Tokyo alongside Marianne Hogan. Now working with guide Emma Skaug, the pair had to continue to learn how to work best together on today's course.
"I think we executed the three stages of the race the way that we wanted to, and the way we thought they might go. As a completely blind athlete and guide pair staying at the same level together can be challenging," said Jessica. "For the swim, I can only use the side of my body to figure out where Emma is most of the time which can take away from forward momentum. I think we did really well there. This course surprised us with a bunch of left-hand turns in the swim, so we had to make up a new way of going around turns, because Emma was on the inside and usually she pushes me on right-hand turns so we had to learn new skills yesterday."
In the end, with a bronze medal to celebrate, the pair were thrilled with the accomplishment.
"I am a triathlete and at the end of the day I'm always thinking I could have done that faster and I am always looking for spots to improve, I think that is just how this sport works," said Tuomela. "But I am really happy and comfortable with the way we swam."
Guide Emma Skaug spoke about her first major games and the experience at these Games.
"I have an overwhelming sense of excitement and gratitude and big wow factor," said Skaug a former junior and U23 competitor. "I have never been to this country before and this is my first major games and I am pretty much surprised that I am still on my feet, I should have been blown off them by now."
Full results from today's race can be found here.
Contact information for Team Canada media attachés can be found on the Team Canada 2022 Media page.