Hammer Time Lasts All Day for Team Canada in Athletics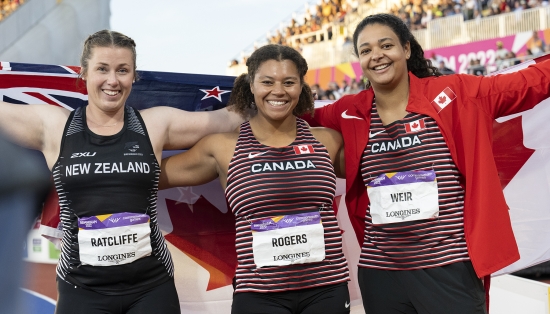 Canadian throwers dominated the penultimate day of athletics competition in Birmingham. Gold, silver and bronze medals from the hammer throw ring, and a new Commonwealth shotput record brought the Canadian fan base to their feet. Plus, a historic 200m final and a gutsy double by John Gay made the day exciting from start to finish. Here are the few stories that characterized Day 6 at Alexander Stadium.
Rogers, Weir Populate Hammer Throw Podium
Camryn Rogers, the Commonwealth Games hammer throw record holder and clear favourite, was a hair away from elimination after her two first throws.
The world silver medalist, who set a competition record of 74.68m with her one preliminary round throw, could not seem to find her mojo in Saturday's early rounds. She stepped out of the circle in her first throw, and on her second attempt sent the implement into the cage. A third fault would disqualify her from the final.
Her third toss was do or die. Stepping in the cage once again, she launched the best throw of the competition: 74.08m. Three more rounds passed without any of Rogers' competitors coming within five metres of her result. In mere moments, she had walked back from the brink of elimination and onto the top rung of the podium.
"You train for every possible outcome," said Rogers. "The first couple throws felt really good they were just a bit off. It's to be able to come back and get it in the third round."
Rogers, 23, said these past three weeks of international competition have already motivated her to do it all again.
"Now we just get ready for next year, learn from this entire experience and come back stronger."
Rogers' teammate Jillian Weir, meanwhile, shook off any remaining fatigue from her post-world championship COVID-19 infection and came into the competition consistently throwing in the 67-metre range. Her third-round toss of 67.35m eventually stood as the bronze medal-winning mark.
"I'm pleased to get on the podium. I think the throws could have been better but at the end of the day it doesn't matter, we were going for a medal," said Weir, adding that watching her teammate Ethan Katzberg win silver earlier that day made her feel momentum for her own final.
"We're just rallying around each other. To have a gold, silver and bronze amongst the men's and women's hammer in Canada is a big deal."
Kaila Butler, also of Canada, rounded out the top eight with a best throw of 64.22m.
Katzberg wins hammer throw silver, shatters personal best
Saturday's hammer throw finals were auspicious for Canada, the only country fielding three men and three women.
On the men' side, Rowan Hamilton, team captain Adam Keenan and 20-year-old Ethan Katzberg looked to challenge for the medals. It was the youngest of the trio, Katzberg, who ultimately stole the show.
The Kamloops native, in his first Commonwealth Games, unleashed a bomb travelling for 76.36m, bettering his PB by two full metres and setting a new Canadian U23 record. It stood as the second-best throw of the competition, barely trailing Nick Miller of England's winning toss of 76.43m.
"It hasn't set in yet, I'm still enjoying it. You can't ask for much more," said Katzberg. "I came in knowing my game plan, stuck with it and it happened. You work very hard for this, put all the hours in, and you get to show it here… I'd been working with my coach Dylan Armstrong and he's an awesome mentor."
All three Canadians cracked the Top 10. Keenan, Team Canada's co-captain was fifth with a best throw of 72.36m, and Hamilton finished ninth with a result of 67.76m.
"Obviously it wasn't the competition I wanted or expected," said Keenan, "but being out with these guys is always an honour. It's great to have Canadians – that's history in itself. I'm really proud of how Ethan performed and we came away with a medal because of him."
3-Sarah Mickey Sets Commonwealth Record
Also in the morning session, CALTAF's Sarah Mickey set a new personal best, national and Commonwealth Games record in the F55 shot put of 7.71m.
The seated shot put comprises the F55 to F57 categories, so, while she was the Top F55 thrower, she finished fifth overall.
"It went really well – personal best, Canadian record, Commonwealth record… you can't ask for much more," said the 24-year-old Mickey.
"As a 55 in a 57-heavily favoured event, I really can't complain. This ends to season for me now, so I'm going to take some time off, get back to training and get ready for worlds next summer."
John Gay Cracks Two Top Tens in Eight Hours
B.C. distance runner John Gay woke up this morning facing a daunting task: to race both the Commonwealth 3,000m steeplechase and 5,000m finals before sundown.
The steeplechase was first. Gay, the defending Canadian champion, met his match in Kenyans Abraham Kibiwott and Amos Serem, who ran the first few laps at a breakneck pace. Losing touch with the leaders and running by himself for most of the race, Gay held on for a fourth place finish and a time of 8:30.26.
"The Kenyans took it out very very hard. It was a tradeoff of 'do I go with them and roll the dice or do I run my own race?" he said of his decision to let them run ahead. "There was always that what if of 'had I gone with them, could I have held it?'
Hours later, he was back to race the 5,000m on tired legs. Once again, he had the choice to follow a pair of fast Kenyans from the start line, this time Nicholas Kimeli and Jacob Krop, along with eventual champion Jacob Kiplimo of Uganda. Despite being one of the only athletes in the 5000m field with the steeplechase in his legs, Gay held on to the leaders for the first half of the race, eventually closing in 13:29.82, a personal best.
"I just wanted to come out here and have fun and compete again. I think any opportunity to run on this stage is a valuable learning experience," said Gay.
"After some doubts about myself after the steeplechase this morning, it was good to come back here and end on a high note."
5- Rodney, McDonald Keep Pace with World Class 200m Finals
The day of competition concluded with a pair of historic 200m finals, which each featured a Canadian.
The men's race came first. Running from lane eight, Brendon Rodney crossed the finish line fifth in 20.65. The 200m specialist contended with an all-star field, pulled forward by Jereem Richards of Trinidad and Tobago who covered the distance in a competition record of 19.80 seconds.
"It was a fast time for the winner, a fast race to be in. I didn't execute as fast as I could, but I'm happy to be running healthy again," said Rodney, mentioning her spent two months injured leading up to the world championship.
"I'm just happy that I was able to finish out the year."
Thirty minutes later, it was Natassha McDonald's turn to take on a world class field. The 400m specialist turned 200m runner tied her season's best of 23.21, and finished seventh overall.
"I ran against literally the fastest 200m people in the world so to be able to be in the field with them shows that I belong," she said. "I'm excited what the future holds in this event for me."