Double Bronze for Darsigny Family on Second Day of Weightlifting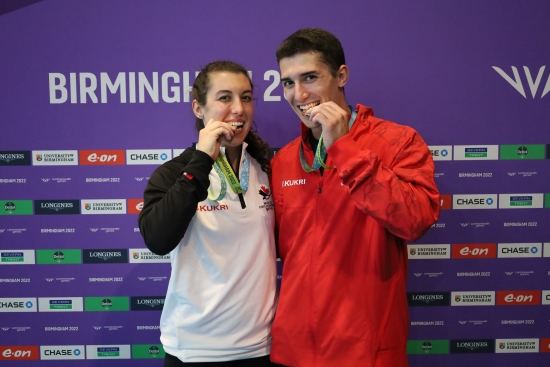 On July 31, the second day of weightlifting at the 2022 Commonwealth Games, from the National Exhibition Centre, featured the brother-sister duo of Tali and Shad Darsigny, from St-Simon-de-Bagot, Quebec. Both siblings were looking to bring their best and earn a spot on the podium. In the end, they did just that, as Tali took bronze in the women's 59kg weight class while Shad earned his bronze in the men's 73kg.
Tali Darsigny – Women's 59kg
Tali Darsigny was first up on the day, during the afternoon session. Darsigny, the reigning silver medallist from the 2018 Commonwealth Games in Gold Coast, Australia, was looking to capture the gold that eluded her four years earlier. During the snatch, Darsigny opened with a lift of 85kg. She bumped up to 87kg and, after missing her second lift, was successful on the third. That 87kg put her in second place heading to the clean and jerk.
During the clean and jerk, Darsigny had three successful lifts culminating with 109kg. For the time, that had her in second place. England's Jessica Gordon Brown would bump Darsigny one spot, but she remained in a podium position and claimed bronze with a total of 196kg.
"I am super happy about my bronze medal. My goal here was to medal, I was hoping for silver, but I got bronze and am happy about it," said Darsigny. "I would have liked to try a few more kilos on my snatch, maybe 89 or 90, but since I didn't succeed on my second lift, I had to go for 87kg again because I wanted to make it and have a chance for a medal. I am still happy because these were more than the numbers I did in the last few weeks of training, so I am happy about my performance. It is my best performance since November 2021."
Shad Darsigny 73kg
In the evening session it was Shad Darsigny's turn. Darsigny began the snatch session with two successful lifts of 130kg and 135kg. He would attempt 138kg, but was unsuccessful. Still, his 135kg was good enough for third place.
When it came to the clean and jerk, Darsigny nailed his first lift of 158kg, and then went to improve to 163kg. After missing his second attempt, he successfully lifted 163kg on his third. That brought his total to 298kg. While he needed to wait out a few more of his competitors' lifts, Darsigny's number stood, and he took home the bronze.
"I was expecting to lift a bit more," Darsigny said after winning the medal. "After my third snatch, I kind of hurt my arm and it played in my head during the clean and jerk. Still, I improved by 7kg (on his snatch). It is also the first time in a year and a half that I have lifted in the 73kg weight class, I was an 81kg. So yes, I am pretty happy."
Winning the medal on the same day as his sister made it even sweeter for Darsigny. "I don't think I realize yet how big it is to win a medal at the Commonwealth Games. It was a long goal of mine, I just wanted to improve on my total but now that I won, I am really happy and will take a ton of pictures with her."
Yvan Darsigny coaches both Tali and Shad, he was just as proud of their accomplishment. "I am really proud, this was the goal we came to the Commonwealth Games with, and they did it, they succeeded!" he added.
Day three of weightlifting continues tomorrow with three Canadians in action. Nicolas Vachon begins the day during the 9:30 a.m. session, 2020 Olympic and 2018 Commonwealth gold medalist Maude Charron competes at 2 p.m. and Alexis Ashworth concludes the day at 6:30 p.m. For more information on the weightlifting competition visit the event site.