CANADIAN SHOOTING LEGEND SUSAN NATTRASS NAMED CANADA'S FLAGBEARER FOR GLASGOW 2014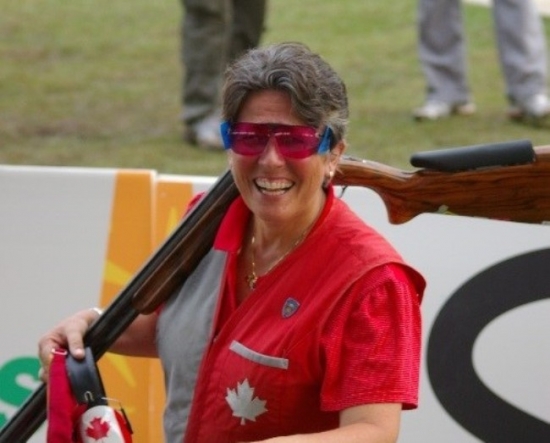 Six-time Commonwealth Games medallist and 7-time World Champion will lead a contingent of 267 of Canada's best summer athletes
June 26, 2014, Ottawa –Commonwealth Games Canada (CGC) today announced that Dr. Susan Nattrass (Edmonton, AB) will be the Canadian Team's Flag bearer for the 2014 Commonwealth Games in Glasgow, Scotland.
Undoubtedly the most decorated shooting athlete of all time, Susan Nattrass has won medals in women's trapshooting at every Commonwealth Games she has attended. She is truly a legend in Canadian sport: member of Canada's Sport Hall of Fame, Officer of the Order of Canada, former Canadian athlete of the year, and a number of other honours too numerous to mention.
The first woman to ever compete in an Olympic trap shooting competition (Montreal 1976), Susan finished 25th against her male counterparts. She broke the gender barrier again in 1990 when she competed at the Commonwealth Games in Auckland as the only woman in an all-men competition.
Susan successfully lobbied the Commonwealth Games Federation to include women's shotgun events in the Commonwealth Games, a pursuit that came to fruition in Manchester 2002. She had initially lobbied the IOC to include women's trap and skeet events as separate events in the Olympic Games after they were barred following the 1992 Games, seeing her quest become a reality in Sydney in 2000.
Susan is clearly a role model as an athlete, a women's advocate and a leader in her sport, and she has served as an inspiration to many during her career.
"Susan has that rare quality of being both a pioneer in her sport, while still being a competitive, world-class athlete," says Team Canada Chef de Mission, Chantal Petitclerc. "She will be an inspiration to all of us in Glasgow, and I am thrilled that she has accepted to be our Flag bearer."
The 2014 Canadian Team Flag bearer admitted to being very emotional when she received the call from Petitclerc. "I'm ecstatic; it is such a tremendous honour to have been selected as Canada's Flag bearer in Glasgow. I love the Commonwealth Games and will do my best to be worthy of this exceptional group of athletes that we have on our Team."
The Canadian Team Flag bearer selection process involved invitations to all National Sport Federations on the Commonwealth Games programme to submit a nomination to the CGC. A Selection Committee comprised of the Chef de Mission, athlete representative, coach representative, CGC President and CGC Director of Sport met to evaluate the nominations received and select a candidate.
"We did not hesitate one second before submitting Susan's name as a candidate for the Flag bearer position", said Shooting Federation of Canada President Asmir Arifovic. "Susan is a legend in the world shooting community, and we believe that she will represent not only our sport, but the entire Canadian Team exceedingly well. We are thrilled that CGC has selected Susan to lead the Team at the Opening Ceremony in Glasgow."
"By proudly carrying the Canadian flag, Susan Nattrass will lead the entire Canadian team into Celtic Park for the opening of the 20th Commonwealth Games in Glasgow, Scotland," said the Honourable Bal Gosal, Minister of State (Sport). "Congratulations on this tremendous honour and know that you have all Canadians behind you."
The shooting events will take place July 23-29th at the Barry Buddon Shooting Centre in Carnoustie Scotland, with a total of 19 events to be contested in rifle, pistol, trap and skeet.
The Canadian Team will be comprised of 267 athletes, Canada's largest team ever fielded for a non-home Games. The entire Canadian Team will be officially named by Commonwealth Games Canada in early July 2014.
The Glasgow 2014 Commonwealth Games will be held from July 23rd to August 3rd, 2014, and will be the largest ever multi-sport event held on Scottish soil.
Media conference call with Chantal Petitclerc and Susan Nattrass
Thursday, June 26th, 8:15pm (ET) 6:15pm (MT)
1-866-478-9787 Conference ID: 6826 Password: 140626
ABOUT COMMONWEALTH GAMES CANADA
Commonwealth Games Canada (CGC) is the international franchise holder for the Commonwealth Games and Commonwealth movement in Canada, and an active, contributing member of the Canadian sport community. The mission of CGC is to strengthen sport within Canada and throughout the Commonwealth by participating in the Commonwealth Games and by using sport as a development tool. Visit www.commonwealthgames.ca for information.
-30-
For interview requests or additional information on the Glasgow 2014 Canadian Team/CGC:
Sylvie Bigras
Communications Chief
Team Canada - Glasgow 2014
613 298 1625
sylvie@magma.ca
@cgc_jcc #Glasgow2014