CANADA NAMES 265 ATHLETES TO THE GLASGOW 2014 COMMONWEALTH GAMES TEAM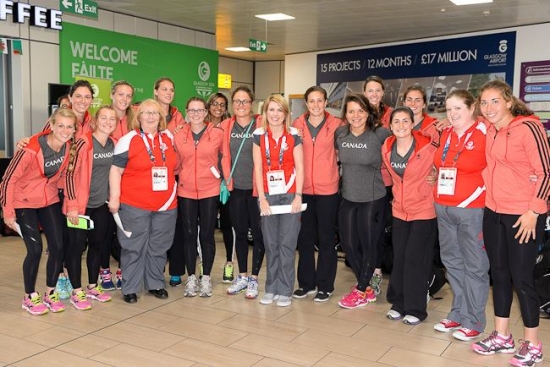 Canada's largest ever non-home Team at the Commonwealth Games Aims for Top 3
ottawa – With one week to go to the Opening Ceremony of the XXth Commonwealth Games in Glasgow, Commonwealth Games Canada (CGC) confirmed today the final number of athletes registered to compete at the 2014 Games.
Canada will field a total team of 265 athletes, competing in 16 out of the 17 sports on the Glasgow 2014 Games programme (all sports except netball). This is the largest team ever fielded by the CGC for Commonwealth Games not held on Canadian soil.
"It is exciting that our Canadian athletes are starting to arrive at the Games' Village," says Team Canada Chef de Mission, Chantal Petitclerc. "While we have had a small advance team on site for over a week, having athletes now living in the Village has made it come alive. Everything is operational and working very well, the accreditation centre, the dining hall, the transport mall and all amenities. Glasgow 2014 is ready - as are the Commonwealth's best athletes who are starting to gather for these great Games."
The Canadian Team Media Guide, containing overviews of each sport as well as athlete biographies, is now available at www.commonwealthgames.ca. The "Contact Us" section of this website provides a detailed list of the members of Canada's Communications Team at the Games, and their contact information.
Canadians will also be able to follow Team Canada along every step of the way with live schedule, results, bios and more through our special 2014 Games app: https://itunes.apple.com/us/app/team-canada/id898651154?ls=1&mt=8
https://play.google.com/store/apps/details?id=com.amo.can.
"After years of preparation, it is hard to believe that we are now only one week away from the Opening Ceremony," said Scott Stevenson, CGC's Director of Sport. "Canada has fielded a very strong team for these 2014 Games, and we are targeting a top three finish amongst all nations competing here. This Team truly represents sporting excellence at its best."
Some interesting facts about Canada's 2014 Commonwealth Games Team:
Canada's youngest athlete, at 16 years old, is Isabela Onyshko of Artistic Gymnastics, born June 23rd, 1998. Canada's oldest athlete at 78 years old, is Al Hanet, member of the Lawn Bowls team (Para-Sport B2/B3 Mixed Pairs), born June 27th, 1936.
The most Commonwealth medals won by a Canadian on the 2014 Team is Susan Nattrass, a trapshooter and Canada's flag bearer at the 2014 Games, who has won a total of 8 medals (3 silver, 5 bronze).
The team members who have competed at the most Commonwealth Games are Susan Nattrass (4 previous Games - Auckland 1990, Manchester 2002, Melbourne 2006, Delhi 2010) and her colleague on the shooting team, Metodi Igorov (4 previous Games - Kuala Lumpur 1998, Manchester 2002, Melbourne 2006, Delhi 2010).
The Opening Ceremony of the XXth Commonwealth Games will take place on July 23rd, at Glasgow's Celtic Park.
Follow us on Twitter (@cgc_jcc), Instagram (@cgc_jcc) and "like" us on Facebook!
ABOUT COMMONWEALTH GAMES CANADA
Commonwealth Games Canada (CGC) is the international franchise holder for the Commonwealth Games and Commonwealth movement in Canada, and an active, contributing member of the Canadian sport community. The mission of CGC is to strengthen sport within Canada and throughout the Commonwealth by participating in the Commonwealth Games and by using sport as a development tool. Visit www.commonwealthgames.ca for information.
-30-
For additional information:
Sylvie Bigras
Communications Chief
Team Canada - Glasgow 2014
(011 44) 0 7913595961 (omit the 0 when calling from Canada)
@cgc_jcc #Glasgow2014
(Photos: Canadian Women's Field Hockey Team Arrives at Glasgow Airport - photo by Yan Huckendubler)