Beat Goes on With Silvers for Masse and Women's 4x200 Relay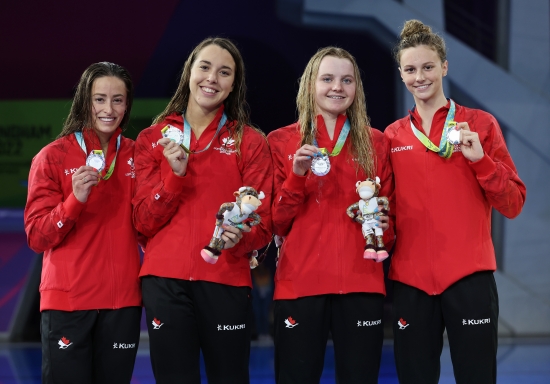 Kylie Masse showed why she is one of Canada's most durable and successful swimmers in history with her silver medal performance Sunday in the 100-m backstroke at the Commonwealth Games.
The women's 4x200-m freestyle relay added a second silver medal for Canada. After three days, the halfway point of the Games for the swimmers, Canada has three gold, two silver and three bronze in the pool.
To put Masse's consistency into perspective she has won a medal at every major event (Olympics, world championships, Commonwealth Games, Pan Pacific Championships, Universiade) she has competed in since 2015, a total of 11 medals in 11 100-m backstroke races.
In Sunday's final, Kaylee McKeown of Australia was the winner in a Games record 58.60 followed by Masse (High Performance Centre-Ontario/LaSalle, Ont.) in 58.73 and Medi Harris of Wales in third at 59.62. Mary-Sophie Harvey, CAMO/Trois-Rivieres, Que., was sixth in 1:00.72.
The race was a rematch of the Olympic final in Tokyo where the Australian also edged Masse.
''Every time I race Kaylee I know it's going to be tough,'' said Masse, the defending champion from 2018 and two-time world champion. ''We really push each other and I put out everything I had tonight.''
The 26-year-old said she doesn't focus on her track record of consistency.
''It's not something I think about,'' she said. ''But I'm super proud to have been consistently on the podium. I feel like I still have a lot to learn and a lot to improve on.
''I'm really inspired to keep going.''
In the women's 4x200-m freestyle, Australia broke the world record winning in 7:39.29. The Canadians with Summer McIntosh, Ella Jansen, Mary-Sophie Harvey and Katerine Savard followed in 7:51.98. England was third in 7:57.11.
McIntosh put Canada into an early lead with her opening leg.
''I'm really proud with what we accomplished,'' said the 15-year-old McIntosh with her third medal of the competition. ''I wasn't as happy with my personal time, I think I could have changed a few things. We got the silver and that was probably we could go tonight.''
It was a first major international final for the 16-year-old Jansen.
''I'm so happy I got this opportunity,'' she said. ''I didn't expect it going into the meet. It was all so amazing to swim with the girls and get the medal.''
Savard was focused on finishing second when she entered the water.
''The Australians were so far ahead of us and I was determined not to get caught by England,'' she said. ''It was a bit scary to swim with no one around me but the other girls set me up well.''
It was a second swim for Savard and Harvey on the evening.
''We did our best and it as nice to come out of it with a silver,'' said Harvey. ''I felt good after the first 100 but at that turn I realized I'm not 16 anymore.''
Three-time Paralympian Camille Bérubé of Natation Gatineau/Gatineau, Que., making her Games debut, missed the podium by one spot in the women's S8 100-m backstroke placing fourth. Alice Tai of England won a decisive gold in 1:13.64. Bérubé, an S6 swimmer who will retire after these Games, clocked 1:26.00.
''I was trying to soak in all the energy tonight,'' said Bérubé. ''It wasn't as fast as I would have liked but it breaks the ice for my bigger event tomorrow (SB6 100-m breaststroke).''
Tessa Cieplucha, Markham Aquatic Club/Georgetown, Ont., added a seventh place in the women's 200-m breaststroke final in 2:28.43.
''I'm still learning about this race, I haven't done it that much,'' said Cieplucha, the 400-m individual medley short course world champion. ''It's been a lot of fun and I want to have another stroke in my repertoire.''
In the evening semifinals, Maggie Mac Neil, (High Performance Centre-Ontario/London, Ont.) qualified third for Monday's final in the women's 50-m butterfly clocking 26.19. Her arch rival Emma McKeon of Australia ranked first in 26.02 and Erin Gallagher of South Africa followed in 26.17.
''It's an event I'm still trying to learn,'' said Mac Neil, the 100 fly champion on Saturday. ''Hopefully I'll nail down a better breathing pattern in the final. It wasn't full out today but a good stepping stone.''
Katerine Savard, CAMO/Pont-Rouge, Que., notched the eighth and last berth at 26.42. She didn't like her finish.
''I had a bad touch,'' said the three-time Olympian. ''I'm excited now about the final.''
After all three Canadians won their respective heats in the morning, they swam side-by-side-by-side in the second men's 100-m freestyle semi and two advanced. Ruslan Gaziev of the Markham Aquatic Club won the heat and ranked fourth overall at 48.54. Joshua Liendo, HPC-Ontario/Markham, Ont. qualified fifth in 48.78.
''I thought I swam a smart race,'' said Gaziev. ''There's more in the tank for the final.''
Stephen Calkins of the University of Calgary Swim Club ranked 10th in 49.42.
''I just got carried away on that one,'' said Calkins, returning from an injury this past spring. ''I was having way too much fun.''
Javier Acevedo of HPC-Ontario/Toronto tied for fifth in the men's 50-m backstroke semifinal to also advance clocking 25.29.
''For all the racing I've done through the worlds and here it's a good time,'' said Acevedo, with two relay medals so far at the Games. ''But in the final, it's all about the racing and being in the Top 3 is all that matters to me.''
In the morning preliminaries, Patrick Hussey of the Pointe-Claire Swim Club/Beaconsfield, Que., swam a personal best 1:59.41 in the men's 200-m butterfly ranking 12th overall.
Competition continues Sunday. Full results are available at https://results.birmingham2022.com/
CBC Sports will provide comprehensive broadcast and streaming coverage of the 12-day multi-sport event, including 10 hours of broadcast coverage as part of CBC Sports weekend programming on CBC TV hosted by Scott Russell and Andi Petrillo, six daily streaming feeds of the competitions available on CBC Gem, cbcsports.ca and the CBC Sports app for iOS and Android