Emma Spence Wins Bronze in Women's Individual All-Around Final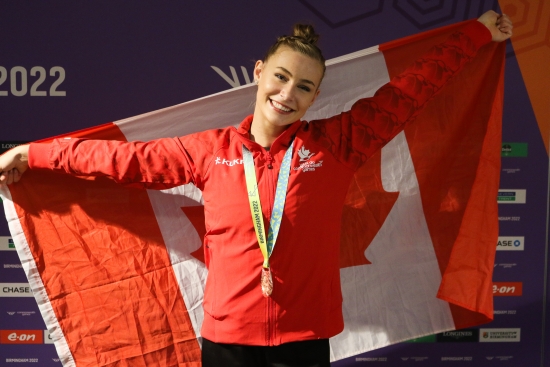 On the third day of competitions at the 2022 Birmingham Commonwealth Games, the Canadian gymnastics athletes have continued to put in their best efforts. Canadian gymnasts Emma Spence and Laurie Denommee, preformed incredibly in the all-around final on the Vault, Uneven Bars, Balance Beam and Floor Exercise.
Emma Spence won bronze in the women's all-around gymnastics final with a total of 52.35 points, just 1.2 points back of Australia's Georgia Godwin who won gold, and 0.65 points back of silver medallist Ondine Achampong of England. Denommee finished in seventh place with a score of 49.700 points.
Building off the momentum of the Canadian women's artistic gymnastics team winning bronze at the Individual All-Around athlete put on a great display for the appreciative audience.
After winning the bronze medal, Emma Spence of Cambridge, ON spoke of how it felt to stand on the podium.
"It was amazing to stand on the podium and represent Canada in the all-around final," said Spence. "I was just so proud and happy with what I did, glad I could represent the country and I'm super happy with it."
On the men's side, Canadian gymnast Felix Dolci narrowly missed the podium with a fourth-place finish in the men's all-around final.
The Gymnastics competition continues tomorrow at the Arena Birmingham, with the men's and women's individual apparatuses.
Contact information for Team Canada media attachés can be found on the Team Canada 2022 Media page.