Di Stasio and Wrestling Team Ready to Compete in Birmingham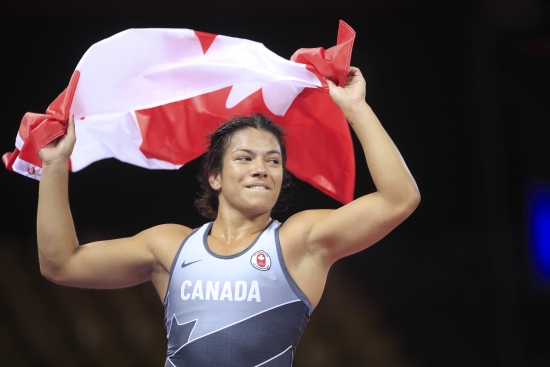 Wrestling has traditionally been a sport that Team Canada has excelled at during the Commonwealth Games. At the most recent Games in 2018, Canadians won 10 medals (two gold, five silver and three bronze). This year's team aspires to equal or surpass that total. While a medal for any athlete is special, for Burnaby, BC's Justina Di Stasio, adding one here would be the latest in an already decorated career.
"I really wanted to compete at the 2022 Commonwealth Games because it is this and the Olympics that are the two big events I haven't participated in yet. Both have been goals of mine throughout my career," said Di Stasio. "It's a chance to compete at one of the major games our sport participates in, something I have tried out for twice before and missed. I am excited to finally achieve this goal of attending and competing in these Games."
It has been a long journey for Di Stasio who began wresting at 12 years old. She recalls walking by her middle school wrestling room and getting the urge to try.
"I didn't fully fall in love with the sport until I was 18. I went to Simon Fraser University (SFU) and wrestled my freshman year because I liked being on the team. I ended up making the Junior World Team. I loved it because I had a lot of friends on the team, but the sport was really hard," said Di Stasio.
That difficulty later turned into motivation. Di Stasio, who trains out of Burnaby Mountain Wrestling Club, remembers seeing the top wrestlers in her weight class compete and the idea of equaling them hooked her to the sport. She began focusing on her technique, in addition to her athleticism, and was soon at their level.
Di Stasio has achieved domestic, continental, and international success. She won gold at the 2018 World Championships, gold at the 2019 Pan-American Games, and is a four-time Pan-American Championships gold medalist.
While she has had many highlights, a few jump out to her.
"Winning Worlds in 2018 was amazing, it was a really fun day. Another day that comes close is when SFU won the WCWA National Team Title in 2013, that was the college league my school competed in, and we were the only Canadian University in the league," said Di Stasio. "My college coach, Mike Jones, worked so hard to make us all think we could win, and we did. It was awesome to experience that with all my closest friends/teammates."
Now 29 years old and with fewer opportunities due to the pandemic, Di Stasio is aiming to get the last few events checked off her career list. However, it hasn't always been easy.
"Injuries are annoying, but part of sport at this level. Being 29 now, they are just something I deal with like I would any other part of training. A bigger challenge I deal with daily is that I have anxiety, so I am focused on keeping my mental health in a great spot, just as much as I focus on my physical health," says the Burnaby wrestler. "When my anxiety is in a good spot, everything else runs smoother, so it's really important to my training/competition performance that I keep it in check."
Di Stasio says she excited to compete at the 2022 Birmingham Games and is ready for the pressure that will come with them.
"Getting familiar with all the pre competition jitters again is important, especially when I consider the next two years of my wrestling career. I am very excited to compete in this tournament and to execute the game plan I have been working hard on at practice," says Di Stasio.
The Games are a crucial event for Di Stasio who will then turn her attention to her final goal of the Olympics. "I want to go to the Olympics and win a medal. On hard wrestling days, my coach always texts me 'Paris 2024' with the little dancing disco man emoji to remind me that we are working this hard for something very important. I am truly excited to enjoy the process from now until I reach this goal."
Catch Di Stasio at the 2022 Birmingham Commonwealth Games when she competes in the women's 76kg weight class on Aug. 6 at the Coventry Arena. For more information on the wrestling event, or for schedules and results visit the event site.